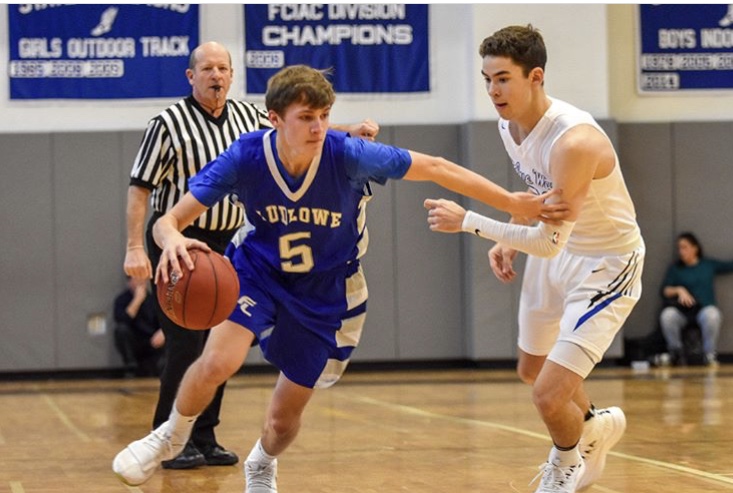 Falcons' Boys Basketball Underway
Ludlowe Boys basketball is looking for a bounce back year
While two powerhouse FCIAC football teams battle it out for the Class LL state championship this weekend, most other schools are prepping for their winter sports' seasons.
In less than a month, the Ludlowe Varsity Boys Basketball season begins.
But to some, it doesn't seem like there has even been an off-season. Senior Christian Peterson explained how the team trained over the summer at a local sports' training facility called BOOST, and how they, "literally started right after our season ended last year."
In addition, the team played basketball daily on the Fairfield University courts over the summer.
"I feel like I have learned a lot about leadership in playing for the Ludlowe Falcons," says Peterson who has been on the basketball team for all four years at FLHS.
Peterson has proven his ability to be a leader by his strong work ethic and by establishing himself as captain on and off the court. He talked about how he "learned a lot about hard work,"  as he had to work his way up to the top spot.
Pulling the team together, building confidence and trust can take a long time and Peterson has seen it happen over his last couple of years on the team.
All of this experience has made Peterson a more responsible and dedicated player who can carry these skills throughout his senior year and into his life.
Peterson states, "Our offense was not very good last year.  We did not shoot well from the field, especially from the three-point line."
The poor shooting had an impact on Ludlowe's offense putting a few points on the board.
Ludlowe finished its season last year at 2-18 which was at the bottom in the FCIAC conference.
Although the Falcons are losing 6 seniors this year, there are a number of players who will help rebuild the team this season and carry the team next year.
Something that will help the team's success this year is a supportive student fanbase.
Senior, Brian Kiremidjian, who runs The Nest,  FLHS' lively student section for home and away sporting events, believes that fanbase is there, and is only getting bigger.
"I think it's a lot better. You know there are a lot more kids this year," said Kiremidjian.
The Nest's reinstitution of school spirit has a tremendous impact on student attendance at fall sports, such as soccer, volleyball, and football, and this fanbase is expected to carry into winter sports, such as hockey and basketball.
Kiremidjian has a new venture for The Nest Club. He says, "we are working on making a "Nest" logo, as the club prepares for the winter sports season."
When asked about what game the team looks most forward to this year, Peterson said, "Warde, as this cross-town rivalry only comes once a season."
And The Nest will be there to support the boys for their big night.
Kiremidjian says, "we will be doing another costume theme night as we did with soccer for the Warde-Ludlowe game."
If you haven't already done so yet, you can follow the "flhs_nest" Instagram page for news on upcoming Boys Basketball games and other upcoming winter sports.
You can catch the Falcons' first game at Bassick next Thursday at 7:00 P.M.