Synths and Sine Graphs: How Math Plays With Music
Hang on for a minute...we're trying to find some more stories you might like.
Synthesizers have long been used to enhance or reproduce sound in music. Turn on the radio and there is bound to be one diverting the attention of your ear. Their sounds are faceted and enjoyable, which is why synths are so prominent in today's music. Artists including Zedd, Marshmello and Drake all use them.
However, many are not aware of the mathematical principles involved in sound energy. Synths are steeped in a tradition of logarithms and trigonometric summations that can be traced back to 1805, about seven decades before the technology even existed. Even more fascinating, the basic mathematical foundation has not changed since 1807!
While there are various kinds of synthesis, two of the more popular kinds are additive and FM. Both use a complex series of equations, founded upon the fast Fourier transform, that allow for the repeated generation of frequency phrases based on summations of Euler's number (e). From this mathematical foundation, the harmonics—multiple notes, which flow higher and softer in volume, layering over the original note—can be altered with trigonometry for diverse timbres that make the sound distinctly unique.
Additive synthesis adds harmonics to pre-existing synth sounds, a basis for recreating any sound artificially. There are varying forms of its cosinusoidal function, but a more universal sine function exists as ∑Ai(t)sin[∫0t(dΘi(t)/dt)dt+Φi(0)]. "i" designates a harmonic partial of number i in a harmonic series, while dΦi(t)/dt (simplifiable as wi) is the radian frequency of the partial over time. Φi(0) is the phase offset (or the degree of harmonic desynchronization with the carrier, a.k.a. the fundamental pitch) at zero seconds, while Ai designates the partial's amplitude. Simply put, additive synthesis is the periodic stacking of harmonics to create other sonic waveforms. In pop music, additive synthesis is used in the legendary Hammond organ, an instrument used extensively on several Pink Floyd records. Additionally, the robotic voices of Daft Punk come from vocoding, the use of additive synthesis over vocal formants.
Frequency modulation (FM) synthesis is a different beast, neither adding or removing harmonics, but using low frequency oscillators (a.k.a. LFOs, generators of sound waves too low to be heard by humans) to modulate their pitches. Its mathematical function can be expressed as f(t)=Asin[2Ct+Dsin(2Mt)], where C is the carrier, D is modulation depth and M is the modulation frequency in Hertz. The effect of FM synthesis is comparable to a vibrato, which is a regular, pulsing pitch. The LFO detunes the harmonics cyclically while maintaining the fundamental pitch throughout. This LFO can itself be modulated by another LFO, while the carrier itself can be modulated by waveforms of the same fundamental pitch. Due to this complex modulation, FM synthesis is considered one of the hardest forms of synthesis to understand on a basic level, but it is quite popular nonetheless. FM synthesis was ubiquitous in '80s pop music thanks to the Yamaha DX7, an instrument that recently appeared in Bruno Mars' song "Versace on the Floor."
The mathematicians of the early 1800s unknowingly gave us versatile, functional tools for sound customization. So the next time you find yourself dancing to Michael Jackson's "Bad" or enjoying a song from Pink Floyd's The Dark Side of the Moon, remember it is logarithms and trigonometry calculating those rhythms. If anything, this may give music lovers more reason to pay attention in math class.
About the Writer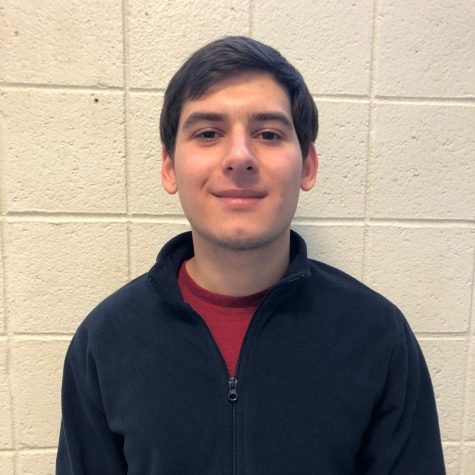 Thomas Holtz, News & Features Editor
Thomas is currently the editor of Prospect's News & Features sections. He has been a part of the Prospect writing staff for three years.