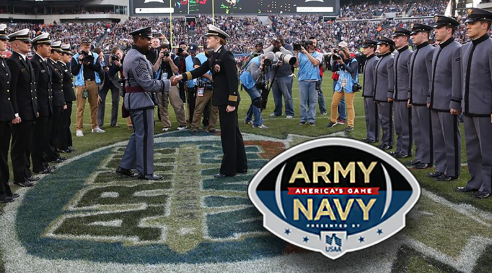 "Navy Kisses their Dads on the Lips!"
"West Point was my Backup!"
"Navy Goes to Wafflehouse Sober!"
These were some of the sentiments on signs of cadets and midshipmen during the pregame bantor ahead of the 119th annual Army-Navy Game. This longtime rivalry is steeped in history and bad blood. Recall Navy's Joe Bellino clinching the Heisman Trophy with 192 all-purpose yards in a 17-12 win over Army in 1960. Remember the kidnapping of Bill the Goat by some mischievous cadets just a week before the 54th Army-Navy game in 1953. As time has gone on, the pranks have only progressed into borderline sabotage, and the rivalry has become the most notable in American history. After all, this event is called "America's Game."
In the age of Nick Saban and football powerhouses such as Penn State, Alabama, and Clemson, the essence of the Army-Navy game has not been lost. Veterans old and new, toddlers and teenagers, football fanatics, and Presidents of the United States continue to freeze their cahoonas in the stands of Lincoln Financial Center or cozy up on the couch to watch the game by a toasty fire. There is something uniquely special about this rivalry that does not fade over time. Perhaps it's the fact that there are no other college football games broadcasting; or maybe, just maybe, it's the fact that beyond the trash talking and animosity, there is a bond between the two teams that is forged from the foundation of America herself. The players on both teams have one goal and that is to win a football game; but they also have one dream, and that is to protect this great country from tyranny and evil. How wonderful it is to relax with a cup of hot chocolate and watch men push, even curse at each other, knowing that in the end, they will become one force fighting for freedom. The very reason Americans can sit back with that cup of hot cocoa and watch the game–it is, in the end, a game–is credited to the sacrifices these players and their comrades make for this great nation. Freedom is most certainly not free and America's protection is certainly no game.
If there is one thing "America's Game," can teach us, it's that despite our political, religious, or racial differences, we are all on one team. We all play for America just as the cadets and midshipmen do every year. Some of the players likely disapprove of President Trump's actions in the bully pulpit, but they salute him as the Commander-in-Chief who leads them and this great country. In an age of polarizing politics, this display of respect is something a lot of us could learn from. My favorite part of the game is the dedication of 9,000 of the cadets and midshipmen who stand for their teams throughout the duration of play. As their buddies exert themselves on the field, they are not going to slouch back and cheer between bites of a hotdog. They stand up, shoulder to shoulder, and scream for all 60 minutes of action and the other 90 minutes of timeouts and between-play lull. For both sides, there was not much to cheer about as the final score was only 17-10, but they continued to extend support for their respective sides despite this. In today's politics, you may not hear too much to cheer about, but the least we all can do is show respect towards those with whom you disagree.
In the end, Army was able to hang on to win "America's Game" and Navy was defeated for the third year in a row. Defeat is not an easy thing to swallow, especially when it could be the last football game of your career. Regardless, the Navy football team still made its way over to its student section and sang, in unison with their fellow students, the Navy 'Blue and Gold.' It's in these moments that we realize why this game means so much more than the Cotton or Sugar Bowls where the college football powerhouses face off for the national title. This game, rooted in history, is an example of how America was built on respect and unity, strength and acceptance, and it serves as a reminder that despite our differences, we all serve this great nation whether or not it is in uniform. Show respect towards those with whom you disagree and press on in the face of failure; America was built on these values and it would serve us well to return to them.