Are You Stressed?
Helpful tips to high school seniors off to college
Hang on for a minute...we're trying to find some more stories you might like.
School…tests, essays, projects, SAT, ACT, extracurriculars, and stress. Students today are under a lot of pressure.
Immense pressure is being put on students by their parents, social norms, and themselves. Growing up in a town like Fairfield, the norm is that over 90% of high graduates typically move onto higher education. However, for some people it is not the logical next step for a variety of reasons, but they feel the pressure to take this path.
When it comes to college, the "expectation [here] is that the majority of students go to a four year school," says Kim Bauco, a counselor at Fairfield Ludlowe High School for the past seven years. Bauco explained how it is the "natural next step" that is put on by "society."
When I attended a panel by Tufts University, they provided examples of students that they admitted. Each student seemed to be the captain of three sports, president of at least one club, taking five AP classes, and volunteering 10 hours a week. Just hearing this sent me into a spiral.
Yet, this is what many students see as what is expected of them in order to be deemed successful in the eyes of their community.
When it comes to college acceptances, once a student gets into his or her school, they post on Instagram about it, and their friends all post for them as well. However, we only see the acceptances, not the denials, giving a false sense of reality.
Greg Hatzis, the headmaster at Fairfield Ludlowe High School who has worked in education for 26 years, along with the other administrators have made "big decisions" in recognition of the increased stress of students.
Technology and social media also play a key role in students' stress. As soon as the grades are released for a test, you get an instant notification on your phone. There is also at least one person who is texting about it and asking, "what did you get?"
Hatzis agrees that phones and technology play a role in this stress. Although many students are aggravated that they have to put their phones in the phone holders, one of the main reasons they are there is to reduce "the access to social media," says Hatzis.
The block schedule was also a decision which was made to ideally relieve stress from students, which it has done successfully. It allows students more time to do assignments, and less running around the school trying to keep up with eight periods a day.
The focus of mindfulness in advisory is also an effort to reduce stress in students, to remind them to focus on the present rather worry too much about obligations in the future.
Sometimes the pressure is too much, and there seems like there is no way out. Unfortunately, this is what Madison felt…
The book What Made Maddy Run is about a girl named Madison, who grew up in a town that seems very similar to Fairfield, CT; a town where most go to college, and where there is tremendous pressure put on students to excel in school, sports, and extracurriculars.
Maddy always wanted to go to college, and she wanted to play a sport. The sport that she truly loved was soccer, however she ended up getting admitted into University of Pennsylvania for track and field. She could never imagine passing up the opportunity to attend an Ivy League school, so she accepted.
After her first semester she was under an enormous amount of pressure, put on by her perfectionist tendencies, an Ivy League work load, and her not excelling at track like she always used to. Tragically, all of these pressures eventually drove her to take her own life.
While Maddy seemed to have it all, and did have a large social network of friends and an amazingly-loving family, she still felt "alone" in her world of pressure, stress, and anxiety. Up until the end, she feared disappointing her family and friends for "not being able to handle" the overwhelming anxiety she was feeling, and so rather than reaching out for help (for fear of feeling like a failure), Maddy ended her life.
The feelings of stress, panic, fear of disappointment, and perfectionist tendencies can be overwhelming, but they are not abnormal for teens and students today; if these feelings sound familiar, please know that you are not alone.
If you are someone who feels that you can not manage your stress, (or that it is preventing sleep), if you are isolating yourself, or have other behaviors that alarm you, there are ways people can help. Mr. Hatzis recommends to not be afraid to reach out for help from "professionals [whether that be] adults, teachers, administrators, counselors" or others because those people are the ones that can truly help.
When it comes to trying to deal with a normal amount of pressure and stress that so many students in Fairfield face, one suggestion Bauco has is for students to exercise, even if that is just taking a walk to get some fresh air. Bauco also recommends spending time with friends, and when you do, to put down your phones so you can be "in the moment." Bauco and Hatzis emphasize that "a certain amount of stress is ok" and is normal, that it might push you to work harder.
For those who are nervous about the transition into college, there are some things that you can do to prepare. Bauco recommends that you identify places where you can connect with others and create a community. Whether that be clubs, sports, activities, places of religion, or others. Hatzis also recommends that you know your "tool box to manage stress", meaning that you know ways to relieve everyday stress.
Our phones and technology allow for the ability to never be alone. If you are feeling unhappy or sad, we resort to our phones. However, although this sounds positive, it is actually hurting us. We need to learn the ability to feel our emotions and use actual human contact to resolve these issues.
Especially for high school seniors heading off to college: learn to put your phones down and connect, so that you can feel your emotions with the new people you meet.
About the Writer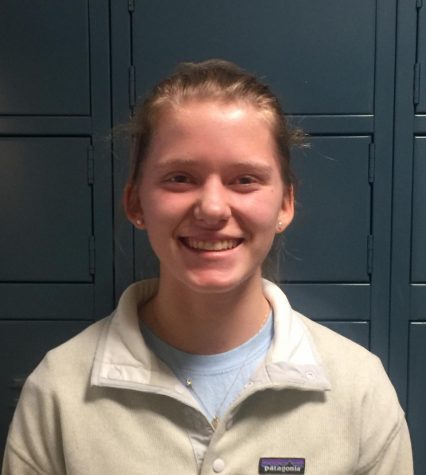 Phoebe Burtt, Staff Writer
Phoebe is an Op-Ed/Features writer with her first year on The Prospect staff.