Competing for Streaming
Media Companies Looking to Knock Down Netflix and Other High Profile Streaming Services
January 17, 2019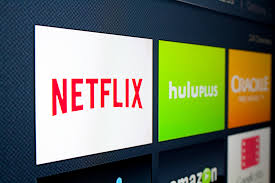 Netflix has taken over the video-streaming world over the last decade. Compared to Hulu and Amazon Prime Video, it is the lead streaming service – But could that be changing?
This year, Netflix will face increasing competition from media Companies like Disney and Warner Media, who will be launching their streaming services by the end of 2019.
However, Netflix lovers could be facing a bigger issue. With these streaming services creating their platforms, there is a possibility these companies will pull their content from Netflix.
A research group called The Diffusion Group (TDG), predicts that every major television network will launch a direct-to-consumer streaming service in the next five years.
 The Disney program, Disney+, has confirmed it will be cheaper than Netflix. Although it will offer a smaller library of content, Disney could also include unique content from National Geographic and FOX programs.
Disney+  says they want to produce five original shows on the platform and four or five original films. They have also confirmed some of the new releases that they are featuring on the platform.
There are rumors that Disney will feature a series based on High School Musical, a series set in the world of Monsters Inc, and two live-action Star Wars Films.
Disney will also take off the Marvel and Stars Wars content that is on Netflix, presumably by the end of 2019.  All Disney shows will be on Netflix until the end of the year.
Warner Media will also be producing a streaming service that is taking flight in 2019. Warner Media holds programs like Batman, Harry Potter, "Big Bang Theory," and "Friends."
AT&T bought Time Warner last June to make Warner Media for $85 billion. This merger also gave them HBO, CNN, Cartoon Network, the rights to major sports leagues, and valuable film franchises.
With all of these combined, Warner Media has the potential to become a dominant force in the streaming field. HBO brings them a variety of entertainment like "Game of Thrones," and "Lord of the Rings."
Although both of these platforms will offer exclusive content, they are late in the battle of streaming service.
Even with taking down shows off Netflix and other streaming services, it will take a long time to achieve the appeal those companies have.
Another aspect to consider is the additional costs of streaming services. By paying for more than one streaming service, it can become as expensive or more than regular cable.
As of October 2018, Netflix has 138 million subscribers. Internationally,  they have about 69 thousand subscribers.
Even if these companies do take their content off of Netflix, Netflix has become their own empire for producing original shows and films.
Beating Netflix isn't just about the content streamed, but the originals that the companies also produce.
Netflix has produced hit originals like "Black Mirror," To All the Boys I've Loved Before, and BirdBox.
Taking down Netflix will be an uphill battle for the new streaming sites. Are they ready to take on that challenge?