FLHS Volleyball 2019: A Successful Season and a Bright Future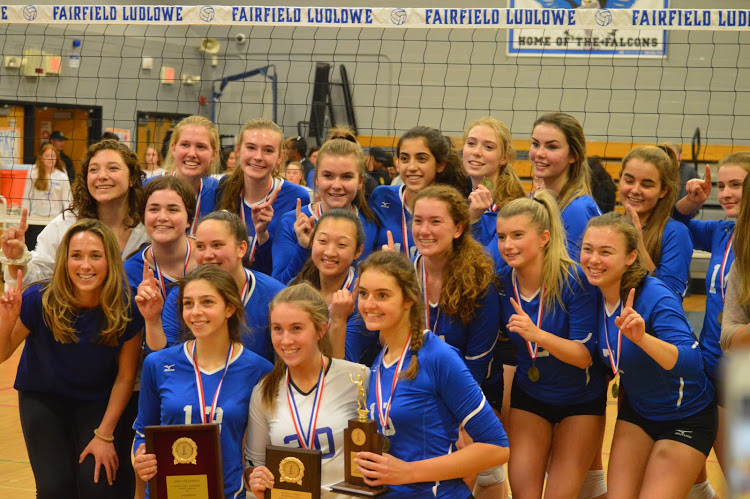 Elizabeth Doolan, Student Journalist
January 6, 2020
The Fairfield Ludlowe High School Varsity Girls Volleyball team ended their 2019 fall season with a record of 23-4 after winning the FCIAC championship and making it to the semi-finals of the state tournament. 
The Falcons finished their regular season ranked number two in the Class LL Division, with a roster of eleven seniors, three juniors, and three sophomores.
Senior captain, Margaret Nolan said that the team dynamic was different this year compared to other seasons. 
"It was easier to be closer to each other because we were all pretty much seniors besides a few juniors…we were playing with a bunch of people that we have been playing with forever."
The Head Varsity Coach, Meghan Skelton had similar views. "Every team is always unique, and this years team was very special in the fact we had eleven seniors. This group was a special class full of tremendous potential and talent. They most certainly did not disappoint."
One of the highlights of the team's season was winning the FCIAC championship against Westhill. During the game, Ludlowe rallied after losing two straight sets to win the next three and take the FCIAC title. 
"It was a really stressful game. It went to five (sets). And then once it happened, I don't know. I think we were just really happy," stated other senior captain, Amy Lumaj.
The FCIAC championship game was also Coach Skelton's 200th program win with Fairfield Ludlowe. 
"In the beginning of the year, we set forth goals to win both FCIACS and States and we knew we could do it. The girls worked hard together and for them to get that win in our gym was so special," Skelton said. 
Although the Falcons ended their fall season with a loss in the semi-finals of the state tournament, the entirety of the season was a success.
"It didn't end the way we wanted it to, but it was still a good season; we still ended it with some pretty high moments," said Lumaj.
"I am very proud of our season and all the hard work over the years that went into this particular season," stated Skelton. "I am so proud of these girls, especially the seniors. They are truly a special group. It has been such a pleasure to coach them."
Even with eleven seniors leaving the program, the future of the FLHS Volleyball Program seems very bright. 
"I'm really excited," said the Head JV and Assistant Varsity Coach, Victoria Jenkins. "These girls that are coming up, they're all playing club. I'm excited because they are committed to it."
Coach Skelton is also looking to the future "with great optimism," stating that "the underclassmen showed a lot of potential" and the coaches "are excited to see what they all will bring to the fall next year."