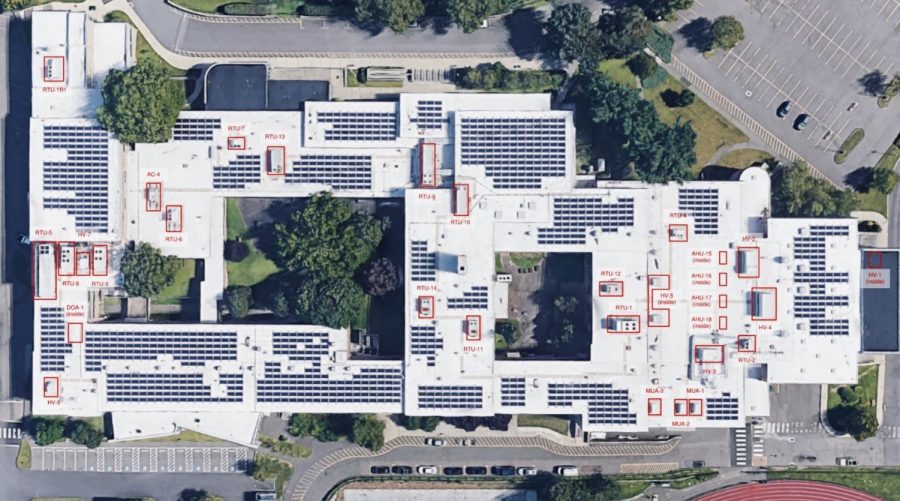 Whether it was from an insane rumor or random joke from the nostalgic months of in-person school last year, it seems everyone in the FLHS community is at least aware of the mold phenomenon and subsequent relocations that took place across Ludlowe High School in 2019 and 2020. Before everyone was moved online in March of 2020 though, the mold was cleaned up, almost all teachers and students affected were returned to their normal classrooms, and all of the issues pertaining to the mold seemed to be fixed, or so it seemed. Fast forward to September 2020 and the implementation of a new "hybrid" model starts in Fairfield Public Schools.
During the summer months, COVID-19 became a part of everybody's daily normal, but school and the prospect of trying to educate 1500 students in one building presents a myriad of new challenges. Not everyone can be in the school at the same time, and naturally, ventilation becomes part of the conversation. Since COVID-19 is an airborne illness, it is pertinent to have sufficient and efficient air filtration and circulation systems in place. There are a few solutions to this, but FLHS uses an HVAC (Heating, Ventilation, and Air Conditioning) unit, which has become the industry standard in new buildings.
The basic job of an HVAC system is to provide heating and cooling to a building, as well as circulating the indoor air with outdoor air. The vast majority of the systems use outdoor air and run it through filters and other processes, eventually transferring the processed, healthy air inside the building. These systems can be found literally everywhere, from a small house to the 4 million square foot Mass General Hospital. It is also important to note that the term HVAC doesn't refer to any specific company or brand, but rather a broad ventilation system.
The HVAC system initially came to the forefront of community conversation after mold was found in a few parts of FLHS. The discovery of mold and an excess of humidity in parts of FLHS suggested that there might have been issues with the HVAC system last year, and a few organizations came in to conduct research on the condition of the building and HVAC system. OSHA (Occupational Health and Safety Organization), a federally funded organization dedicated to protecting the safety of workers, was one of these organizations. OSHA conducted tests in the FLHS building and released their findings in the winter of 2019. 
Shortly after this overview, members of the FLHS administration conducted a meeting in which they reviewed the results of OSHA tests. Following one question about the condition of the HVAC system at FLHS, an anonymous source recalled that members of the administration suggested in their answer the HVAC was up to code, and "totally fine." It is also important to note here that no OSHA representative attended this meeting; it was organized and conducted by FLHS administration using information from the aforementioned OSHA report.
After this meeting, the HVAC system was paid little attention, as most assumed it was working fine or were not even aware of the system in the first place. All of this will change as we jump forward in time to 2020 and the COVID-19 pandemic.
The vanZelm organization specializes in infrastructure in public buildings and was contracted to run field tests and write a report on the condition of Warde's and Ludlowe's HVAC systems as a precautionary measure before students returned to school.
The report they released, known colloquially as "The vanZelm Report," goes over several details about the infrastructure of the school, but one of the primary focuses is the HVAC system. It is mentioned a myriad of times, but the condition of each HVAC unit is mentioned in detail near the end of the report.
There are a total of 31 HVAC units listed in the vanZelm report, and all placed throughout the building to optimize the air that goes in and out. On page 58 of the report, there is a detailed list of what exactly is wrong with each unit and what needs to be fixed. The most notable issues are listed below:
At least one main component in 15 of the HVAC units was listed as either "dirty," "very dirty," or "extremely dirty."
A total of 14 HVAC units listed were reported to have dirty or very dirty filters, and in some of the units, the filters had not been replaced in more than a year. (In DOA-1, filters had not been replaced since 2016).
In two of the HVAC units, there were concerns or questions as to whether they had run at all in a long period of time. This was denoted in the report as a mention of totally clean filters, even when the filters had not been replaced for up to five months.
In eight of the HVAC units, rust was observed on various parts of the units, even those critical to the operation of the unit.
In eight of the HVAC units listed, corrosion was observed. (This corrosion was observed on a myriad of parts, and the part changed depending on the unit. In some units, pipes were corroded, and in others, the entire frame of parts were corroded.)
Inside unit HV-4, a ladder was observed. Though this does not necessarily compromise the operation of the HVAC unit, it raises questions as to the operation and maintenance techniques FLHS has employed to keep the HVAC unit operable.
There was one instance of an HVAC unit having an incorrect or out of place nameplate or title listed.
In four HVAC units, piping issues were observed, mainly with piping insulation. In one unit, piping insulation was installed in such a way that the only way to get to the interior of the unit is to step on and subsequently crush piping insulation.
In 14 of the HVAC units, there were issues with coils, with some listed as dirty, and some simply listed as totally missing.
The conclusion of the vanZelm report makes a general statement on all of these observations and considers COVID-19 standards and recommendations set forth by HVAC industry professionals:
This study found that most existing Fairfield Warde and Fairfield Ludlowe High School central air handling units contain air filters below the MERV 13 minimum that ASHRAE  recommends capturing airborne COVID-19 and other contaminants, and the MERV 13 filters that are installed are in bad condition and require immediate replacement. Filters in all units can easily be replaced with MERV 13 filters and should be upgraded as they become available.
We do not currently know if all of the existing central air handling units surveyed meet the minimum ventilation air requirements of the State of Connecticut Building Code based on their current operation. We highly recommend further evaluation should be performed on the ventilation aspect including whole-building retro-commissioning and engineered ventilation calculations to determine compliance and to bring the system back up to better working order. (vanZelm 12)
This conclusion presents the reader with several important pieces of information. Not only does this portion of the report conclude that there is ambiguity on the FLHS HVAC system compliance with regular state regulations, but it decisively concludes that the HVAC system does not meet the recommendations of ASHRAE (The American Society of Heating, Refrigerating and Air-Conditioning Engineers) for COVID-19.
As of October 11th, a Tools For Schools meeting attended by some parents and teachers yielded more information for the FLHS community: It appears that the HVAC system will be retro-commissioned, but since the Executive Director of Operations for the district, Mr. Papageorge, could not make it to the meeting, questions asked at the meeting were not provided with immediate answers.
The solution listed is to replace all current filters in FLHS HVAC units with MERV 13 filters, which are approved to catch a minimum of 90% of air particles in a certain range. Though this seems like a simple fix, it appears that the district has done nothing about it in the past month since this report was released.
Though FLHS would technically be allowed to return to school at 100% capacity, it would not be recommended without upgrades to our air filtration system.