A Published Author at the School
A city surrounded by a massive wall. A ruthless government. A group of defiants. These are all elements of Defy: Murder of Crows, a dystopian novella I read recently. But none of these are the most interesting thing about the book. The most interesting thing is that the book was written by a Ludlowe student.
Kayleigh Gallagher is a junior here at Ludlowe, and she is a published author. I interviewed her about this book and her writing process.
Kayleigh has wanted to be an author for a long time. She said, "I have stapled-together sticky notes with fairytales I wrote when I was four or five, and I even have a bound book I made from a website when I was nine."
"I'm not sure if Defy had any specific inspirations," she said when I asked her about the influences for her writing, but there were some books that may have influenced her, and others that inspired her to become an author. "Rick Riordan's Percy Jackson series was a huge inspiration when I was younger. I was also definitely a big fan of The Unwanteds by Lisa McMann, which combined the dystopian and fantasy elements I tried to include in my book, and The Inheritance Cycle by Christopher Paolini, who wrote his books when he was a teenager, like me. It was really motivating to see a teenage author like myself achieve such success at such a young age."
I also asked her about her writing process. "My favorite part of writing Defy was the revisions," she said. For the earlier drafts, Kayleigh had just written without a strong outline or plan. "There were so many little mistakes," she said, calling the early document a "hot mess." She continued, "The revision process—going back in with new knowledge and a better understanding of how writing a book really worked and fixing the overall messiness of my own writing—was incredibly cathartic, and watching my story slowly improve was also very satisfying."
Defy isn't the only book Kayleigh has written. She has released a sequel, called Unchain. Mixing science fiction and fantasy, the book was released at the beginning of 2020. She is also working on writing another book, which she described as an "apocalyptic science fiction novel."
About the Contributor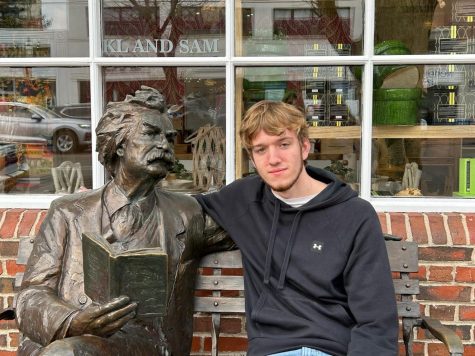 Campbell Treschuk, News Editor
Campbell is the News Editor at Prospect. This is Campbell's fourth year with the Prospect staff. Campbell is also on Ludlowe's Ultimate Frisbee team!