A Place for Everyone in "A Wilder Time"
Hang on for a minute...we're trying to find some more stories you might like.
Reminding us how priceless our time is, The Drama Club presented the fall play: two one act plays, "A Long Christmas Dinner" and "Pullman Car Hiawatha", both by playwright Thorton Wilder, this past weekend.
Both plays comment on the fluidity and repetition of time. For example, "A Long Christmas Dinner" is about a family having their Christmas dinner, but in less than an hour it travels through 90 years to show how quickly time passes. New characters are born and old characters die and walk through an arch symbolizing death, then sit above the dinner scene, watching the future of their family play out.
When choosing the play each year, Director Mrs. Kondziela looks for lots of roles, considers the past year's performers and genre, and asks herself, "What do I want to say as a director?"
Kondziela says this year's choice will help her actors grow as they will have to age in front of everyone and make it believable in "A Long Christmas Dinner". The fact that there are two separate sets and characters many students had to portray, adds another challenging element.
There are about 15 performers in "A Long Christmas Dinner," and about 30 in "Pullman Car Hiawatha," with many more students helping out behind the scenes. What students and Kondziela love most about this experience is the inclusivity of Drama Club.
Senior Caroline Dayton has participated in drama since freshman year because she loves "the family that Drama Club is."
Kondziela claims, "In drama there is a place for everyone…I never cut anybody, anyone can be part of the process, which I think is important."
Sophomore Vincent Ohe says what he loves most about Drama Club is that, "it's an inclusive environment and it's so satisfying to see everything come together after three months."
This year, the play also included live music from pianist Olivia Beniston, adding yet another art form to the mix. With set design, music, lighting, and acting, the play brings together all of these talents; which also embodies the challenge of drama.
"Drama is the greatest art form because it includes all the art forms," says Kondziela.
When all of these students come together, you can appreciate the hard work and friendship that went into "A Wilder Time".
About the Writer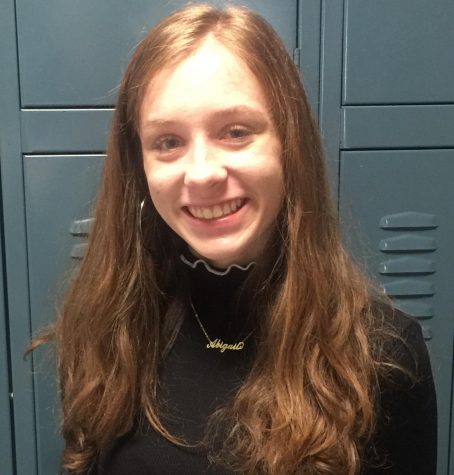 Abby McCabe, Editor
Abby is a writer for The Prospect, in her second year on the staff. She is also an editor with the newspaper.