New FDA Warnings in JUUL Epidemic
Hang on for a minute...we're trying to find some more stories you might like.
In September, the Federal Drug Administration gave JUUL labs 60 days to initiate plans that would address their concerns regarding the dangers of youth advertising.
Now, the company has agreed to temporarily halt the selling of fruity flavors to curb teen usage and will no longer sell products to anyone under 21.
In addition, JUUL is shutting down their social media pages to discontinue youth-oriented content.
According to an FLHS Google forum, 80.6% of the 384 respondents know someone who JUULs regularly; 54.3% of respondents claimed that people use other students' JUULs, and 32.3% of students said that addiction is the main cause to why people do it.
These results clearly highlight the reason why the FDA has been involved in the Juul epidemic.
The non refillable JUUL pod cartridge, which looks like a USB port, clicks into the top of JUUL, containing a nicotine e-liquid formula, that is converted into vapor.
It is popular amongst teens because it is so easy to use, and many often become addicted because of the strong concentration of nicotine, which is absorbed into the bloodstream.
Knowing how it works, as well as the danger behind the JUUL, the question is: will these new rules help to eradicate the problem?
Tim Morris, FLHS student counselor, claims that, "the only way a person stops is if they want to stop." Morris says that nicotine is the hardest drug to stop, as it spreads to nerves in 7-10 seconds. He feels that despite the FDA ban on certain flavors, drug stores won't stop selling JUULS because they will lose business.
"Some places will sell it to a kid on a tricycle," Morris states. He works with Fairfield Cares Coalition, an outside group that hosts organizations to help instruct students about the dangers of drugs. "It's all on education," Morris says.
Nick Imbrogno, a 17 year-old senior, feels that students "don't see the illnesses that come out of it." He feels that there is a social aspect to it.
"If you don't JUUL, then you're really not cool" he says.
When asked about his perspective on the FDA ban, he claims that because it's already out there, "they're still gonna find a way to get it."
The new generation of underclassmen are influenced as well because of the students they look up to.
Grace Noto, 14 years old, feels people "do it to be popular". Coco Marrelli, also 14 years old, states that the problem is "not just going to go away".
Headmaster Greg Hatzis agrees that, "kids who are becoming addicted to JUUL may not have not been addicted to anything else before."
As it has now been a prominent issue for 2 years,  "They are getting better at hiding it," he claims.
Hatzis feels that the FDA's new policies "will not end the problem," because "business interests prevail over common sense health issues."  However, he believes that the policies are "a good first step," and it will "only get easier from here" to keep taking bigger steps to decrease the problem.
Hatzis works to educate the parents by sending out educational emails that inform them on JUUL, while the school also tries to bring in programs to educate the students.
This health issue that is plaguing this generation is not going to disappear tomorrow.
It will take education, smart personal decisions, and new legal policies to change the future health of today's teens.
About the Writer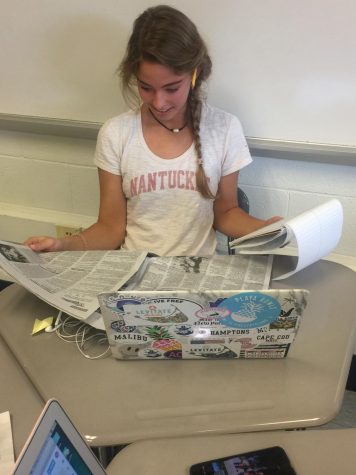 Grace Pelle, Staff Writer
Grace is a writer in her first year with The Prospect staff.