A Lettuce Lover's Review
Allison Long
January 21, 2020
With New Year's resolutions in full swing, there are a great deal of new diet trends and workout regimens people are undertaking to create the healthiest versions of themselves.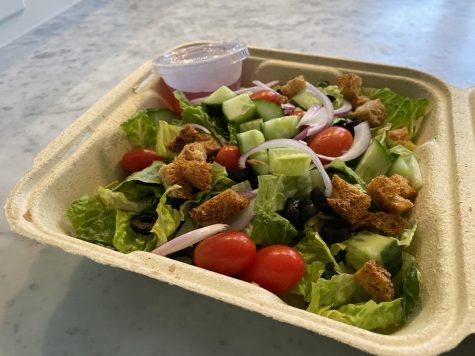 An increase in new diets also means an increase in salad consumption among Americans. So, I decided to venture into the streets of downtown Fairfield in search of the best salad shop to fit your current dietary needs. After doing some background research, I wanted to evaluate the three most popular salad stops in town, which includes: The Pantry, Pronto, and Chef's Table. I assessed these shops based on: 1. The price of the salad 2. The speed of service 3.The variety of toppings available. At six o'clock on Saturday evening, I made my first stop of the week at Pronto. Pronto is one of the most well known eateries among the teens of Fairfield, as they have many menu options and are conveniently located in the center of town. 
Later that week on Thursday, I found myself craving another tossed salad and found myself at Chef's table. It was about 3 p.m., there was no line so I just walked right up to the salad bar and was out of the restaurant within two minutes. 
I proceeded to order the same salad that I got from Pronto with the same toppings, but Chef's Table didn't have any red wine vinaigrette so I had to settle for just red wine vinegar. In terms of variety, they had about 20 various toppings to choose from, three different greens, and about six specialty salads you could add. My box weighed in at .78 lbs and my total was $8.59. 
My last stop, The Pantry, has been an all-time favorite for me since middle school. From cookies to chicken paninis, The Pantry never disappoints in terms of flavor. I arrived at the market at around 3 p.m. and headed straight to the salad bar. I had to wait for about three minutes at the salad bar line. Again, I proceeded to order the same salad, except they only had one choice of greens, mixed greens. In terms of toppings, though, there were about 20 choices and ten dressings. My salad price totaled to $9 for about .9 lbs. 
The Pantry had enough toppings to choose from, while the decision was not overwhelming. The wait time was also relatively short and the price was affordable for the amount of salad I was given. 
While Chef's had speedy service, Pronto had the most variety and The Pantry had the best price, I was ready to make a conclusion. After visiting all three locations, I have concluded that The Pantry remains my favorite stop for a tossed salad. 
So the next time you are looking for a quick lunch stop that fits your new dietary restrictions, pop into The Pantry for your daily greens.