Walk-ins Welcome; Anxious or Not, You're Not Alone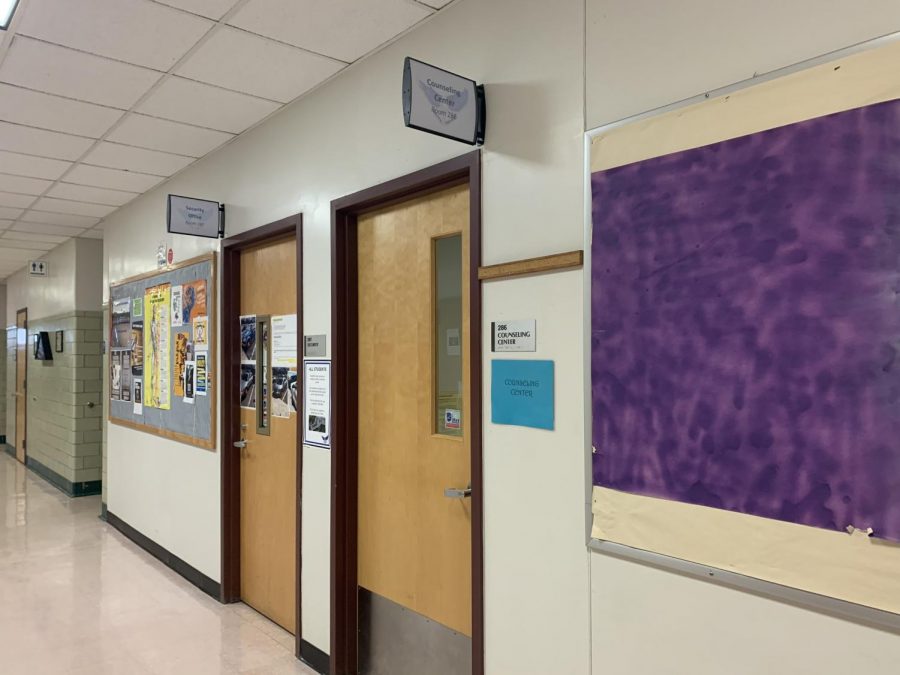 Tierney Maloney
January 23, 2020
"A tight throat, physical tension in [your] body, and feeling like the walls are caving in [on you]; feeling like [you] want to flee and get out of school… anxiety."
Michael Crane, a school psychologist at FLHS, says new students drop into the counseling center with these symptoms on a daily or even weekly basis.
Crane explains the demographic of kids who visit the counseling center are students who appear to be fine on the outside: ones who perform well in class, have roles on varsity athletics and have a seemingly "normal" life.
The anxiety that is stimulated from societal standards is what drives kids into the counseling center. No one is alone, anxiety is normal and not one student should fear reaching out and asking for help, according to Crane.
It's important for every student to have a trusted adult in the building where they go to school, that they can talk to at anytime. A learning environment is supposed to be a safe space where students can try to free themselves from any outside problems or issues that may cause anxiety and disrupt learning.
Yet, there are many preconceptions about the counseling center here at FLHS and many students don't feel comfortable walking in to the counseling center unannounced about something that is bothering them.
Students' first instinct would be to leave if they were having a problem in school that was emotionally or physically debilitating them. However, counselors are extremely important because their sole purpose is to help, and most of the time students find a solution.
School counselors, nurses or even teachers are often a gateway to the counseling center. It's common for students to go to any of these adults first, but the counseling center is the right place to find someone who can be available more often than not.
Finding the right fit is also important, so that students feel comfortable, and ultimately create a bond with someone who will try to help them find the source of any problems they may have. Talking to someone doesn't even have to be about a problem, it can be about anything.
There are also many opportunities to get involved in programs found through the counseling center that students can use as an outlet that works for them. Students can not only seek a one on one environment, but also a group setting. These groups provide students the opportunity to not only talk to a trusted adult, but also to trusted and relatable peers who may be going through a similar situation.
Paloma Meehan, a student at FLHS shares, "group is a space where a group of students come together to talk about real life and the impacts of what their every day challenges or upbringings are it's almost like a safe space and a nice place to go when you feel stressed out or when you want to share happy moments."
Every counselor has his or her own qualities which differentiate them from other counselors in the school. Finding the right counselor for each student's own personality is important as well. Some people find it difficult with transparency or straight forward people, some people love talking with someone who has the same sense of humor..
As Crane explains, "we make ourselves available. I can get in probably 3 to 4 walk-in's a day, and if it's absolutely necessary, we can get in more."
The counseling center makes it their job to be there for the students. Crane continues with this saying "we have a lot of walk in's and it's okay; we make it work between the team." Crane works with 5 other people in the counseling center, as well as all of the counselors in the school.
One of the most prominent problems seen at FLHS is anxiety. Anxiety can create a sense of panic and disrupt any learning environment. This is noted as one of the main reasons that students will go to a counselor to begin with.
Crane continues to reveal the main reason that students are coming to the counseling center unannounced as, "anxiety and panic-based symptoms are the top reason that we're seeing a lot of new students." This explains why many "students want to flee and get out of school."
The stigma surrounding the counseling center should not stop a student from getting the help he or she rightfully deserve and, in most cases, need. Seeking help is not a weakness, but a strength of character. The counseling center is located in the main hallway, next to the security office.