"I didn't know what I was doing"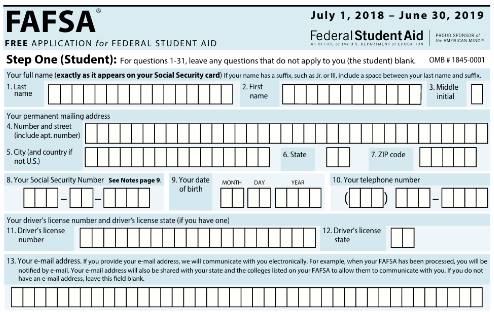 A majority of students across the country apply for financial aid when applying to colleges, in fact over nearly 19 million students submitted the FAFSA in the 2017–2018 academic year, according to the Department of Education (DoE).  
Financial aid in the United States is referred to as FAFSA, which stands for "The Free Application for Federal Student Aid." 
Financial aid is funding for students who plan on attending a post-secondary education institution in the U.S.. This funding is loaned or granted to students to help cover the cost of their education.
Vanessa Montorsi, Director of Pupil Services at Fairfield Ludlowe High School explained that FLHS wants to help students and parents understand financial aid to the fullest. To do so, the school hosts a financial aid night every fall. 
Montorsi also touched on the importance of the monthly newsletter. "We do pump if full of information about the FAFSA process," she said.
Montorsi clarified the different financial aid that can be given as well. "Unsubsidized loans is where interests starts to occur right away," while with subsidized loans, "interest will accrue after you complete your four years of college". 
There are also other types of money that is given, such as grants, which Montorsi explained as money that you don't have to pay it back. Merritt money, another type of aid is money  "given to students who have a high GPA or have earned the money. So you often don't have to pay it back". 
Montorsi also mentioned how there is  work-based employment, where one gets money if you work at the school you are attending. 
Additionally, there are "parent Plus Loans" that are described as if you get financial letter back and "what they give you is not enough, your parents can also take out a loan for you."
When asking Montorsi if she believed FAFSA was the best method to determine financial aid, she responded, "I don't have any other way to do it. I think the process has been tried to be simplified over the years, but I honestly don't know if there is a best way."
Montorsi went on to say that "we are in a time where people need to start looking at the college process through a different lense." She claimed that many students look at schools based on academics, but she said that "there needs to be another conversation about: is this something I can pay for out of pocket? Is this something I need to take out massive loans for? I think there needs to be a consideration of academics when you apply, but also a financial piece too. Is it realistic to pay 60 thousand dollars a year for a school?"
Montorsi mentioned how "students the last couple years are becoming financially savvy," and "people are talking about money, and being realistic about it." 
Anna Hobbs, a senior at Fairfield Ludlowe High School who recently applied to colleges, described her experience with the financial aid application process. Hobbs stated that she filled out most of FAFSA by herself but, "I had to put in things for my parents' income, so my parents helped me with that."
When Hobbs was asked if she believed that the U.S government had the best method for distributing financial aid, she replied,  "I think they do the best the can. They aren't going to give money to everyone who needs it, but they definitely try to do what they can to help the families who need it."
Hobbs explained that her financial aid will "most certainly" determine where she is going to school.
Ava Sandborn, a senior at Fairfield Ludlowe High School, discussed her opinions on college tuition as a whole "The cost of college is insane" Sandborn said. "There is such a pressure to go to a good school, but good schools are too expensive for many people to go to, it isn't fair."
So, as the U.S. moves forward, maybe it's time to ask the questions: is there just not enough financial aid given? Or is college just too expensive?