Inside the life of a student-teacher
If you have ever seen a group of small children skipping down the halls, you have spotted Fairfield Ludlowe High School's one and only pre-school program! If you have ever wondered what the program is all about, wonder no more.
I got to speak with a few veteran student-teachers, who gave me insight on what a typical day looks like. The program is offered to three year olds on Mondays and Wednesdays and four year olds on Tuesdays and Thursdays, leaving Fridays for the student-teachers to prepare for the week ahead.
Each day, one preschool student is chosen for leader of the day, in which they receive a lesson plan for that day based off of one theme. According to student teacher Caroline Sullivan, "Lesson plan themes can be pretty much anything. One time I did a "field day" plan where the kids got to participate in a bunch of field day activities, we had so much fun. Others can be based off of a movie, or a TV show, like "Toy Story" day."
Seems like a pretty fun time, right? So, how do they incorporate learning-based activities into all of the fun and games throughout the day? Well, that comes from the 2+ weeks of preparation time each student pair receives for planning their day. Sullivan revealed, "We have to think about what that individual student is interested in, and enjoys to really make that day as special and educationally benefiting as possible, and so the planning portion is probably the most crucial part of the whole process." 
I came to understand that the school day (9:15-12:30) is split into time sections of learning and playing. The day begins with writing practice, and freeplay. They the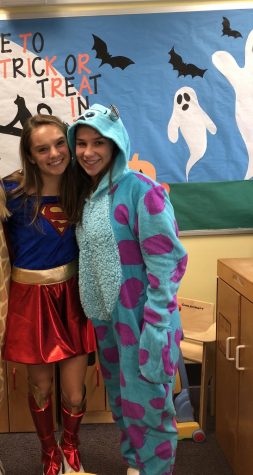 n move onto math skills, literacy, and problem solving stations. The head teacher then announces the leader and theme of the day at circle time, followed by the ABCs, number practice, reading, and then bathroom time.
For the second half of the day, the kids enjoy snack time at their designated seats for the day, and after cleanup, they do a craft, and a physical activity/game as a class! Finally, they get to experience and participate in a science experiment, "This is almost always one of the best parts of the day, they get so excited from the littlest things, like a fake baking soda volcano explosion," says Sullivan. Just before dismissal, the day is concluded with the marble jar. 
In order to be eligible for the FLPS program, you must take the child development course as a prerequisite, which is available as early as the sophomore year. Child development, a full year course, is then followed with "Early Childhood Education" – the preschool program. 
I asked the student teachers what they thought the most important qualities of a student teacher are, and Sullivan responded with, "hardworking, patient, being able to work around things, and know that it's not always going to work out the way you planned, and be able to adapt to the way that it ends up."  Tierney Maloney, another FLPS student teacher, went on to say "confidence is so important, also remembering you don't always have to take yourself so seriously." 
After speaking with a couple of these student-teachers, it seems like the whole experience of being a student teacher feels less like a job or a grade and more like a fun and rewarding experience for these students. Trying new things in school, and branching out is so important, and this seems like a great way to do it!