Best Buddies: A Community of Friendship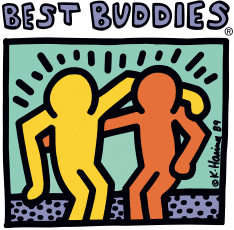 At the Best Buddies meeting, friendship and smiles abound. "I enjoy waking up to this," says a sophomore Peer Buddy. As buddies play card games, chat, and color together, they agree that it is an exciting way to start the day. "I like hanging out with my friends," says a senior Buddy working on a coloring page alongside her peers.
This month, the Prospect had the opportunity to spotlight Best Buddies, a club that aims to build a community of friendship at FLHS. Best Buddies facilitates social interactions between students with intellectual and developmental disabilities (IDD) and their peers.
"Being a part of Best Buddies increases access for students with disabilities to all the activities of a typical high school student," says Ms. Mengold, a club advisor. Ms. Mengold mentions that the program helps to create an inclusive environment at school and forms lasting friendships between students. "The most important impact for me is seeing students with and without disabilities come together to participate in their school and community."
Many Buddies find that they share interests and experiences in common. As a sophomore, I joined Best Buddies this year and have had the opportunity to connect with my buddy with a variety of activities, such as reading, blocks, PE, and puzzles. I am so happy to have met my friend. We both have shy and thoughtful personalities; our friendship has definitely enriched both of our lives. Her smile fills the room and I always look forward to the opportunity to unwind during the school day over a story or simple game with a friend.
Since Ms. Mengold and Ms. McGuigan took on the role of Best Buddies advisors in January 2019, the club has grown to 40 members. "The goal of Best Buddies as well as my personal goal is to have this club be student-driven," Ms. Mengold explains. Students have a variety of opportunities to continue their friendships outside the A-Week meetings. Buddies can attend school and community events together, connect with each other through text or email, or make plans to hang out after school. This year, the club also participated in the Friendship Walk, an event that draws from chapters across the state to raise awareness of Best Buddies programs.
By reaching out to students both with and without IDD, Best Buddies breaks through social barriers to connect members of the school community. Buddies not only make meaningful friendships through the program, but also feel a sense of satisfaction at making a difference in another person's life.
Ms. Mengold and Ms. McGuigan encourage students to join this community of friendship during A-week in the school library. The club truly has a positive impact at our school. With each smile and friendship made, Best Buddies fosters acceptance, inclusion, and self-esteem for all.