Teens Create Change
Ludlowe Students Support the Black Lives Matter Movement
In the midst of America's national conversation on racial justice and equity, Ludlowe students have harnessed their creativity to fundraise, educate, and spark discussion within the Fairfield community.
After educating themselves about systemic racism and white privilege, seven students were moved to take action. In a community where over 84% of residents are white, according to data from the Connecticut Economic Resource Center, these FLHS students recognized the importance of going beyond simple expressions of solidarity to become actively anti-racist. They are committed to advancing the progress of the movement and amplifying the voices of Black individuals.
Sophomore Sophia Vassalo was inspired to create hand-painted lawn signs for Fairfield residents. She saw the signs as a way to build unity within our community and also raise funds for organizations aligned with the Black Lives Matter movement. The signs include striking phrases such as All Lives Can't Matter Until Black Lives Matter, Silence=Violence, and I am not Black but I see you, I hear you, I mourn with you, and I will fight for you. She reflects, "I decided to make lawn signs for people in my community which is predominantly white, to allow them to express their support for Black individuals."
Rather than donating to mainstream national organizations, Sophia researched local or grassroots initiatives in an effort to bring change closer to home. All of the proceeds from her lawn sign project have supported the Advancement Project, The Prosperity Foundation, and The 100 Black Men of Stamford, organizations that strive to develop Black communities and enact educational and economic change. Sophia shares, "The Advancement Project reinforces and grows the capacity of today's grassroots activists and local organizers fighting to build power for communities of color."
Sophia has raised $700 so far and invites members of the community to support her project on Nextdoor Neighbor.
Junior Sophia Barrato decided to get involved in the Black Lives Matter movement by creating customized bracelets. She has sold her bracelets to her family members and friends on Instagram (@barrato_beads) and donated the proceeds. The NAACP, the organization that Sophia chose to support, has a commitment to securing equal rights in all areas of society and eliminating prejudice and discrimination based on race.
Both students speak to their desire to move toward tangible and direct actions that uplift the Black community instead of performative allyship. They researched the organizations before fundraising to ensure that they were centered around Black voices and equity. Sophia Vassalo voices her investment in authentic community change: "I want to impact our local community and support those near me, and I think I can start by making a difference around me and see change rather than donate and not know where my money is being allocated."
While some students found creative ways to fundraise and support organizations, other students focussed on challenging perceptions in the FLHS community and beyond with social media. Seniors Freya Nangle, Sofie Nangle, Olivia Kiss, Katie Siclari, and Lily Solz were inspired to continue their journey of self-education and reflection by creating an Instagram account called Teens Teach Change (@teensteachchange). After attending protests in the last month, Freya Nangle explains, "We didn't want to just show up and then be done with our allyship; we wanted to continue learning and helping others learn."
Freya also describes their experience taking part in community dialogue and their desire to form educated opinions while challenging discomfort and prejudices: "We witnessed an argument on Instagram mainly between students regarding a post that someone made about celebrating the Fourth of July and it made us realize that there are so many different opinions in our town. We wanted to continue learning so we could better support our ideals."
The five students have featured a variety of topics so far in Teens Teach Change, including allyship, the difference between systemic and systematic racism, civil disobedience, and alternatives to phrases with racist origins. They hope to distill the vast quantity of information on social media into accessible and relevant posts for all their viewers.
Whether creating lawn signs and bracelets as fundraising endeavors, or developing a social media account to inform their peers, the students all recognized that change starts on the intrapersonal level. It begins with acknowledging one's privilege, understanding the inequities in our community, listening to Black voices, and correcting one's prejudices and misconceptions. They saw the importance of self-evaluation and education as a springboard for their action, recognizing that allyship could not be confined to a single week or accomplished in a vacuum.
For fellow students seeking to become better allies, Sophia Vassalo concludes with conviction about the movement as a fight for human dignity: "Black Lives Matter is not a political issue; it is a human rights issue…I keep educating myself in order to be less ignorant as a white person and understand the privilege that I have."
About the Contributor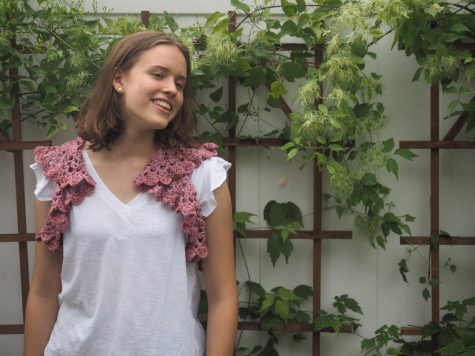 Harper Treschuk, Editor in Chief
Harper is the current Editor in Chief of Prospect. Harper served as the Opinions Editor of the paper during the 2019-2020 school year. This is her fourth...