FLHS Orchestra Club: The Performance Must Go On
In a world where any song is easily accessible from a quick swipe on a smartphone, many people are already deprived of live music performances. Now with the pandemic, live music has become even more rare than before. Fortunately, Fairfield Ludlowe High School's Orchestra Club continues to spread joy throughout the Fairfield community with their string orchestra performances.
Seniors Freya Nangle and Olivia Kiss are co-presidents of the Orchestra Club. The club was founded two years ago by Lily Solz, Sofie Nangle, Freya Nangle, and Olivia Kiss. Even with a clear goal of sharing music with the community, starting a club from scratch proved to be challenging. Freya notes, "At first it was difficult to figure out how we would have time to rehearse during the short club period… it was hard to stay on track sometimes, but we soon worked out the logistics and were able to make our rehearsals successful!"
The FLHS Orchestra Club is best known for its frequent performances at Sturges Ridge, an assisted living and memory care facility. Olivia reminisces on previous Sturges Ridge concerts: "After every performance [the residents] love to come talk to us, and they tell us different stories about their lives. I've met many wonderful people, and always look forward to visiting them every other week." 
After overcoming the initial challenges of organizing a brand new club, the pandemic has required Orchestra Club members to face even more obstacles. Because the residents at Sturges Ridge are vulnerable to the Coronavirus, the highly anticipated performances seemed impossible at first. However, the Orchestra Club was able to adapt to the new situation. Over the summer, Freya and Olivia had the idea to create an easily accessible virtual performance. Freya explains the process of designing the virtual concert: "We decided on a few pieces, and the members would film their parts at home and then send them to me to edit together! It was difficult getting the members to send in their videos, and I had a lot of trouble editing the videos together, but it worked out in the end!"
Recently, the Orchestra Club has had socially distanced concerts outside with every single musician wearing a mask. With this adjustment, the live music performances have been made possible again!
Every single person in the Fairfield community has witnessed their lives become overwhelmed with new obstacles when it comes to classes, extracurriculars, and social interactions. However, these challenges should not discourage FLHS students from doing things that they have always been passionate about. Olivia concludes, "We impact the community by being able to offer a light in the darkness that this time is. When we see the happiness that we bring to the seniors at Sturges Ridge, we know that all the extra effort to work around the virus is worth it."
About the Contributor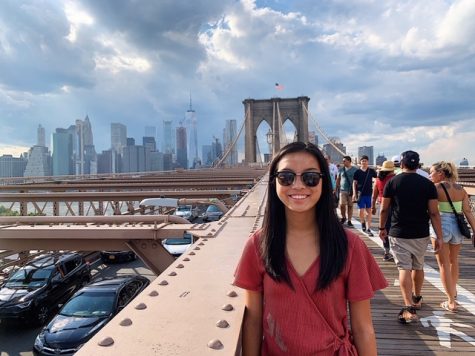 Lauren Ji, Features and Podcast Editor
This is Lauren's second year as the Features Editor for Prospect. She is also the Podcast Editor.