15 Newest Fall Books of 2020
During these past few months, I have discovered a lot of great books! The Covid-19 pandemic has allowed me to pursue reading as a different form of entertainment. I explored a variety of books with different genres and unique storylines. 
Releases from famous authors such as Nicholas Sparks, Susana Clarke, and Ernest Cline have emerged; and watch out for buzzed-about new titles from Yaa Gyasi, Stuart Turton, Rumaan Alam, Bryan Washington, Tiffany D. Jackson, and celebrity restaurateur David Chang.  These books can be found in your local library, bookstore, or even online! 
Hopefully, fellow book lovers, this fall proves to be the best fall in recent memory. Here is a list of book recommendations for some awesome fall reading.
Transcendent Kingdom by Yaa Gyasi
Summary: "This much-anticipated follow-up to the bestseller Homegoing traces the fortunes of Gifty, a fifth-year candidate in neuroscience at Stanford and the bright shining heart of her Ghanaian immigrant family. With her loved ones in distress, Gifty looks for the scientific cause of human suffering." (Goodreads.com)
This African-American author gives readers new perspectives in regards to diversity and culture.
Release date: September 1st
Plain Bad Heroines by Emily M.Danforth
Summary: "The author of the young adult novel, The Miseducation of Cameron Post makes her adult fiction debut with this horror-comedy centered on a cursed New England boarding school for girls. This spooky gothic tale begins in 1902 when two students meet an untimely demise and continue 100 years later as infamy and legend grow around the 'haunted' school." (Goodreads.com)
For those who enjoy horror-comedies novels, this is the book for you!
Release date: October 20th
Memorial by Bryan Washington
Summary: "Benson and Mike have a good thing going. Together for years, they're still in love, even if things are getting choppy. But when Mike leaves for Japan to visit his dying father, Benson finds himself with a new roommate—Mike's straight-talking mom. Apart for the first time in a long while, the two men find their love tested and lives changed."(Goodreads.com)
This book is relevant, especially among FLHS students, because we need more LGBT romances, and it is written by a Black author.
Release date: October 27th
The Thirty Names of Night by Zeyn Joukhader
Summary: "In the decaying Manhattan neighborhood known as Little Syria, a closeted trans boy tries to navigate the suspicious death of his ornithologist mother. An abandoned property and an old journal reveal incredible secrets going back generations, plus a mysterious connection to a rare species of bird that appears to be haunting his family…"(Goodreads.com)
It is rare to read a novel about the journey of a transgender boy; readers will be pleased with this novel and the connection to ornithology.
Release date: November 3rd
The Devil and the Dark Water by Stuart Turton
Summary: "It's the year 1634 and Samuel Pipps—the world's greatest detective—is in big trouble on the high seas. He's being transported to Amsterdam for execution for a crime he didn't commit. Probably. That's trouble enough, but then comes the dead leper stalking the decks of the ship. And the slaughtered livestock. And the arcane symbols. And the demon."(Goodreads.com)
This is a captivating read for crime novelist lovers because it comes from an author who has made spellbinding mystery books in the past.
Release date: October 6th
To Sleep in a Sea of Stars by Christopher Paolini
Summary: "For xenobiologist Kira Navárez, it was just another routine research mission on an uncolonized planet. But the dramatic discovery of an ancient alien relic beneath the surface changes everything. Author Christopher Paolini provides an epic tale of first contact, travels to the edge of the galaxy, and just maybe the fate of all humankind."(Goodreads.com)
I think that this book is interesting because the author has written compelling fantasies in the past like Eragon.
Release date: September 15th
Piranesi by Susanna Clarke
Summary: "From the celebrated author of Jonathan Strange & Mr. Norrell, comes a hypnotic new novel with some elastic notions on the time-space continuum. Piranesi lives in a home of infinite rooms and endless passages. His only companion is an entity known as The Other. As Piranesi maps his new environs, which include an entire ocean, a terrible truth begins to unravel. There's yet another resident in the house."(Goodreads.com)
This book will keep you on the edge of your seat.
Release date: September 15th
The Invisible Life of Addie LaRue by V.E. Schwab
Summary: "France, 1714: Addie LaRue has made a Faustian bargain. In exchange for eternal life, she's cursed to be forgotten by everyone she ever meets. As the decades roll by, Addie discovers the aching despair at the heart of her decision. Until one day, after 300 years, she meets a young man who remembers her…"(Goodreads.com)
I like books with written female leads; those who like books with female authors will fall in love with the main character.
Release date: October 6th
Black Sun by Rebecca Roanhorse
Summary: "The first in an ambitious new series inspired by the civilizations of the ancient Americas, Black Sun chronicles events during and after the winter solstice in the holy city of Tova. A solar eclipse heralds deadly disruption as Xiala, captain of a ship from a distant land, arrives in the city. Xiala's ship carries one passenger, blind and scarred. Then things get complicated." (Goodreads.com)
This book is inspired by the civilizations of the ancient Americas, and it is quite fascinating to learn about the ancient cities.
Release date: October 13th
Ready Player Two by Ernest Cline
Summary: "This cleverly titled sequel to Ready Player One, the blockbuster novel, and film, is among the most anticipated books of the fall. Advance details are scarce, but we're hoping for plenty of pop culture references." (Goodreads.com)
This is a cool story because it is a sequel to Ready Player One, a science fiction book that I enjoyed.
Release date: November 24th
The Return by Nicholas Sparks
Summary: "Genre godfather Nicholas Sparks (The Notebook) is back with the story of a wounded veteran and Navy surgeon Trevor Benson. A mortar in Afghanistan has left Trevor recovering in his grandfather's North Carolina cabin. When two women enter his life, dark secrets from the past are revealed, along with some promising paths into the future." (Goodreads.com)
I think that this book is interesting because the author has made romantic fiction that I have enjoyed in the past.
Release date: September 29th
Leave the World Behind by Rumaan Alam
Summary: "This suspenseful thriller from the author of Rich and Pretty finds two families stranded together in a Long Island rental property after some unknown catastrophe descends on New York City. With the power out and the internet down, no one knows what to do or who to trust. Throw in some complexities on race and class, and things get interesting. And by "interesting" we mean terrifying." (Goodreads.com)
This book speaks to the fight between race and class.
Release date: October 6th
Grown by Tiffany D. Jackson
Summary: "The lone Black girl in her suburban high school, Enchanted Jones has dreams of being a famous R&B singer. When music mogul Korey Fields takes an interest, things start looking up! Then Korey Fields is found dead and things start looking grim. Especially since all signs point to Enchanted as the murderer." (Goodreads.com)
With the Black Lives Matter movement, this book is important to FLHS, because it features a Black protagonist. We need more diversity in these Young Adult novels.
Release date: September 15th
A Rogue of One's Own by Evie Dunmore
Summary: The second installment in Evie Dunmore's series A League of Extraordinary Women turns to the story of Oxford suffragist Lady Lucie, who has been issued an indecent proposal from her rival Lord Ballentine. Yes, that kind of indecent proposal. What follows is an epic battle of wile, will, and words." (Goodreads.com)
If you are a fan of old romance novels, you will recognize the smart usage of female tropes.
Release date: September 1st
The Cousins by Karen M.McManus
Summary: "Three cousins are invited by their mysterious and wealthy grandmother to work at her island resort for the summer. The weird thing is, Grandma, broke off relations with the rest of the family years ago, after some unspoken incident, and no one has communicated with her in years. What does she want? What's on the island? And why is everything getting so creepy?" (Goodreads.com)
If you have read, One of Us is Lying, you will enjoy this book! It is full of mystery and keeps the audience captivated.
Release date: December 1st
Eat a Peach: A Memoir by David Chang
Summary: "In this new autobiography, world-famous restaurateur David Chang tells of his journey from modest NYC noodle-bar owner to industry titan. Chang opens up about his difficult childhood, feelings of paranoia, and a long struggle with depression. The memoir is said to be a deeply personal and honest telling of a culinary coming-of-age." (Goodreads.com)
This memoir discusses mental illness and the difficulties of growing up; for many, this book is relatable to their emotions and struggles
Release date: September 8th
For more reading, please visit https://www.goodreads.com/blog/show/1898-the-big-books-of-fall
About the Writer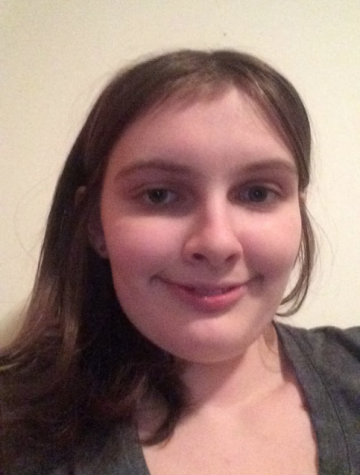 Julie Dunn, Prospect Writer
This is Julie's first year as a staff writer for Prospect.