Candlelight Community Remains Bright
The Candlelight concert is something that many Ludlowe musicians, students, staff, and family members look forward to during the holiday season. This performance is an opportunity for students to raise money for music department trips, advertise local businesses, and gain experience collaborating with other ensembles. However, the most prominent aspect of  Candlelight for many in the music department is the connections that are formed. Even with the obstacles that the pandemic has created, the sense of community that Candlelight brings is still thriving at FLHS. 
Candlelight is put on by the music department every December. The performance group consists of the upper levels of all three strands of the department: band, choir, and orchestra. There are also groups outside of music classes, such as Chamber Orchestra, the a cappella groups, and Jazz Ensemble, that perform. Some songs are performed with every ensemble, and others are performed with just one or two ensembles.
It is an annual tradition to open the concert with a song called "Winter Games," where every ensemble is involved, whether through singing or playing an instrument. The song is based off of the instrumental track for the 1988 Olympic winter games by David Foster. The lyrics were written just for students at FLHS by arranger Peter DeMarco, so it is seen as irreplaceable by many performers and conductors in the program.
In order to facilitate the transition into an all-virtual Candlelight performance, band director Mr. Albano combined recordings from every student in the concert for the song "Winter Games." Students recorded their parts individually at home over the course of November and early December. Some ensembles have contributed only to "Winter Games," while others will be recording additional pieces.
When asked about "Winter Games," junior Jenny Silence shared, "I feel as though the community aspect of choir and the music department has been made less apparent due to COVID restrictions, but my classmates and I have definitely been able to bring some of that camaraderie back through this special song." Watch Jenny sing with Chamber Choir and a cappella, which will feature "Carol of the Bells."
Another virtual performance to look forward to is Chamber Orchestra's video of "Summer" from Vivaldi's Four Seasons. This piece is sentimental to senior violinist Sofie Nangle, as she played it as a freshman. Sofie shares her thoughts on the format, "As a performer, [performing virtually] will definitely relieve some of the stress that comes from solos and ensemble changes, as these could be quite tedious tasks." 
Sophomore Emily Barber, a flutist in Wind Ensemble, laments that Candlelight is virtual: "I am really sad that we are not able to have a live Candlelight this year. This year would have been my first time performing in Candlelight, so it is sad that I will be missing this opportunity." However, she also remarks, "Even though everything has been virtual, I still feel connected to the program. I am happy it was possible to make the recording, because this is one of the only things that is connecting the whole music program."
Ms. Pine, the choir director at FLHS, brought in a new perspective as a conductor and organizer of the concert: "As teachers we try to keep our students motivated and to honor traditions and keep things as 'normal' as we can.  We wanted to honor the tradition of Candlelight and offer our students, especially the seniors, an opportunity to 'perform' some aspect of our Candlelight concert one last time before they graduate.  We also wanted an opportunity to give back to the community – and what better way than through song."
With this being her final Candlelight performance, Sofie concludes, "Despite having different interests, the entire school is able to enjoy the music we bring and the spirit of the holidays, which is a really special feeling as a performer."
Support the music department by watching the Candlelight concert!
About the Contributor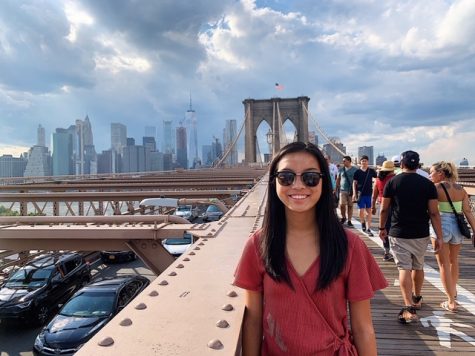 Lauren Ji, Features and Podcast Editor
This is Lauren's second year as the Features Editor for Prospect. She is also the Podcast Editor.