"The Last Man Standing"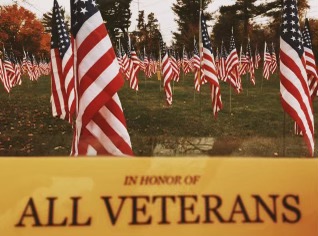 There are people that we see on the news, read about in magazines, or hear gossip about, such as celebrities and politicians. Although their stories can be interesting and compelling, there are local stories which are not heard. As our society becomes more technologically advanced, young people are influenced more by the media and less by stories in their communities. I recently had the opportunity to speak with someone whose story should be shared.
Fred Wills, a Korean War veteran, father, grandfather, and most importantly, a kind and respectful man, has been through a lot, but in his words, he has "lived a long and wonderful life." In a few months, he will turn 90. Our conversation covered his childhood, the war, his family, and today's issues. He is one of the most optimistic and polite people I have met. Fred was born and grew up during the Great Depression, a period in history which devastated families in America and around the world. Throughout this difficult time, Fred was able to follow his faith as well as the example set by his parents. He explains, "Everything that I am, I owe it to my parents, because they basically instilled in me, respect for others, to be honest, to be there for service, etc." He adhered to those principles throughout high school and then at Fordham University, where he was drafted and enlisted into the United States military. Through his family's experience in the military, Fred's draft was, to him, the patriotic thing to do. He explains, "Your country is calling for you to go."
During the Korean War, Fred worked with the Medical Air Evac, working with the Air Force, which flew the severely wounded from the Korean battlefields to Japan. It was then that Fred realized "how fragile life really is." Some of the men who died on those transportation rounds are "permanently photographed" into his memory. "I still see their faces. You never forget that." When putting those moments into perspective, he asks himself the question: "How come he's killed and I'm still here?" For him, the reason for his survival was to be "an instrument of [doing] the right thing." He describes himself as "the last man standing."  Fred mentioned that it was incomprehensible that people, countries, and delegations could not sit down and work things out but instead resort to war. He also sees a resemblance in today's society. Global conflicts, politics, and eternal hatred "seems to have a life of its own." "You've got to do something," he says. Talking with him on these issues gave me an opportunity to see optimism for our future. 
It was in the military where Fred first saw issues such as racism and antisemitism. He recalled a time in Texas when he and a Black friend, a fellow soldier, went to buy a burger. The restaurant refused to serve the friend because of his race. Fred could not believe that they would not serve a man who was willing to put his life on the line, just because he was Black. This goes back to the principles in which he was brought up: to respect everyone, no matter their religion or race. He believes, "If we are going to survive in this world, we have to learn to respect all our friends and neighbors. We never seem to learn from the past [Auschwitz, concentration camps]." Today's continuing racism makes him fearful, that the discrimination from Nazi Germany will be revived. 
Fred considers himself a religious man. He attends Mass, not because he has to, but because he wants to. He asks GOD for wisdom and assistance to cope with today's issues. Fred told me there were moments when he did not think he would make it home from Korea, but he survived, and when he returned home, he realized he had obligations. "I had to be the voice of all those who made the supreme sacrifice and several former classmates who did not make it back, killed in action. I had to speak up… We're here to serve and help others." 
When returning from Korea, he worked in a job that required him to travel extensively. Through this job, he met people of all religions, faiths, and experiences, later confirming that "we're all the same people." Fred spoke to the constant problems that we experience in today's society like inequality and indifference. "There are good times and there are difficult times, and it is how we behave and respond as human beings to current issues, how we behave and respond to the conflicts in China, it's how we respond to the relationships in the Middle East, and conflicts around the world. Now is the time, I think, is when you show your real self. I think this Coronavirus pandemic will sadly have long term consequences, and [we will] look back and ask ourselves, did we do everything we could possibly do? These are horrific times, but we have to live and lead by example. We have been abundantly blessed [with home, food, shelter] and common decency, and we have to share it with those who don't have it." Through my eyes, I see him as a person putting other people's needs before himself. Someone who will always be there for the community. Fred is encouraged and optimistic for the future, and his experiences will shed light on how we can direct that future in the right direction through being respectful, understanding, generous of spirit, and to always keep our faith in GOD and others. He feels he is living the respectful life that his parents instilled in him, and he "considers that one of the greatest gifts he's ever received." "Hopefully," he says, he will pass this message down to his children, grandchildren and others. Fred thinks that if his message gets out, we might someday experience a better and kinder world than we live in now.