"Hindsight is 2020": Depicting the Year in Art
In 2020, many high school students turned to art as a way to document and reflect on the massive shifts in life caused by the pandemic and other major events of the year. The Museum of Contemporary Art (MoCA) in Westport is currently running an exhibition called "Hindsight is 2020" until March 13. The exhibit features art created during 2020 by high school students, as a way of showcasing the challenges students faced last year. An array of media types, including photographs, drawings, paintings, sculptures, and collages are featured in the exhibition, which received almost 200 entries from teenagers across New York and Connecticut. Seven Ludlowe students are among the artists featured.
Some students made a piece of art specifically for the exhibit. Arushi Mallarapu, a freshman at Ludlowe, said she spent a long time trying to figure out what to submit. "My typical art style is more appropriate for comics and fanart so I wanted to try something different," she explained. Her final piece, titled "What's Here To Stay," is a work in which she used colored pencils and alcohol markers, and addresses how COVID impacted life in 2020. "I used the mask to symbolize the binding of space and opportunities that COVID-19 has caused," she shared.
Other students, like FLHS junior Charlotte Pfenning, submitted art they had made prior to knowing about the exhibition. Charlotte's painting, titled "Raspberry Rain," was made during the first few months of quarantine. "I was trapped in my house basically 24/7 and was able to devote a lot of time to it," she said. When her art teacher mentioned the exhibition, she decided to enter. She explains, "I've always been drawn to art and being able to showcase my pieces is pretty rewarding."
Many works from the exhibition incorporated themes relating to the events of 2020. Some pieces articulated the massive effects of COVID-19 on our lives, with many specifically focusing on masks. Other works contributed to the conversation on racial justice. However, there was also great variety in how people interpreted the prompt. For example, some people incorporated nature into their art, and many people composed portraits.
You can view all the pieces by booking an in-person visit on MoCA's site. The art is also viewable on their website throughout the duration of the exhibition. Congratulations to all the Ludlowe students whose art is on display!
About the Contributor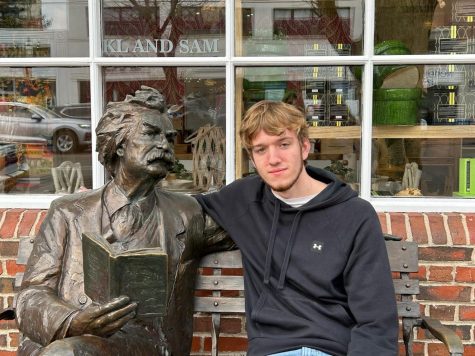 Campbell Treschuk, News Editor
Campbell is the News Editor at Prospect. This is Campbell's fourth year with the Prospect staff. Campbell is also on Ludlowe's Ultimate Frisbee team!