Making IV Infusions More Bearable for Kids
Fairfield Ludlowe High School freshman Ella Casano is committed to make intravenous (IV) infusions more "bearable" for kids. Her nonprofit, Medi Teddy, distributes plush IV covers to hospitals and the families of sick children to reduce anxiety during infusions.
Ella was diagnosed with ITP, a chronic platelet disorder, at the age of seven. She had to receive IV infusions at the hospital every six to eight weeks to increase her platelet count.
She noticed that getting IV treatment can be stressful, and she wanted to make the hospital experience more comfortable for others by creating the Medi Teddy, which conceals a bag of IV fluids or medication. The Medi Teddy has a mesh pouch so doctors and caretakers can still monitor the procedure, but from the front, the patient sees a "friendly stuffed animal" instead of an unsightly bag of fluids. 
Ella has come a long way in her nonprofit. She initially created the prototype for Medi Teddy for a fifth grade Invention Convention, and then continued with the idea throughout middle school, supported by her mother and other mentors. After making a business plan, Ella incorporated the business, filed a patent, and started a GoFundMe to raise money for the first shipment of Medi Teddys. Ella shares how the support of the community helped Medi Teddy to get off the ground: "Our GoFundMe actually went viral and we ended up quadrupling our goal. Because of that, I was able to share the Medi Teddy story and be on Good Morning America."
Two years later, they have shipped Medi Teddys to hospitals in 23 countries around the world, and now have two patent-protected designs: a plush model that belongs to an individual child, and a plastic model for use in hospitals. Ella's goal remains constant: "Giving Medi Teddys to any kid who wants one or needs one." A recent grant from the New York Knicks and SquareSpace will allow Ella to concentrate on providing plastic Medi Teddys to underserved hospitals in the New York area.
In 2020, Ella conducted a survey with the support of University of Connecticut professors, and the results confirmed that Medi Teddy brings smiles and calm to a difficult hospital experience. There was improved emotional wellbeing during an infusion reported from 95% of the respondents; 49% reported a reduction in pain just from the presence of Medi Teddy in their room, without any additional pain medication. 
Through her outreach, Ella has received the opportunity to connect with patients and their caretakers as well as bring joy to those going through similar struggles: "Every time we get a picture or a photo of a patient using Medi Teddy, it is really amazing to see that I was able to take what may have been a burden for me and use it to help other kids. It's really inspiring to know that what I've had to go through, with getting so many infusions over the past few years, that I'm not alone in that, and there are so many kids out there who have similar things."
Ludlowe students can support Medi Teddy by fundraising, to facilitate the gift of Medi Teddys to more families and hospitals, as well as by raising awareness on social media (@medi_teddy).
Ella's mother, Meg Casano, shares, "People connect with us on Instagram and message us, and say, how can we help, or can we get a Medi Teddy for our child? And of course, the answer is yes."
Through her creative and thoughtful invention, Ella has been able to touch the lives of many children receiving infusions. Ella affirms, "As kids, we sometimes see things differently than adults do, so it's very important that we aren't afraid to share and act upon our ideas, because they have the potential to help change the world."
About the Contributor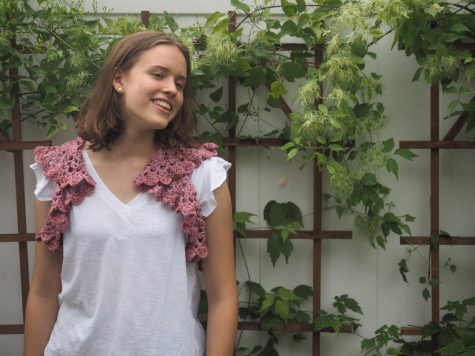 Harper Treschuk, Editor in Chief
Harper is the current Editor in Chief of Prospect. Harper served as the Opinions Editor of the paper during the 2019-2020 school year. This is her fourth...