"Honk If You Vote" – JSA Promotes Election Awareness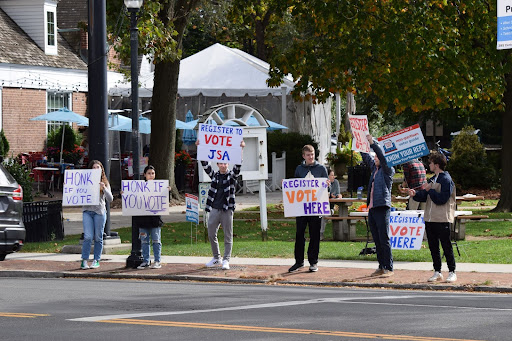 On Saturday, October 23rd, the Ludlowe Junior State of America club (JSA) was set up on Sherman Green for two hours to promote awareness for the upcoming local elections this Tuesday, November 2nd. JSA is a nationwide organization founded in 1934 that aims to get young people interested in politics and government.
Students stood alongside Post Road holding signs with messages such as 'Vote', 'Honk if you Vote', and 'Register by Oct. 26'. A table was set up where people could register to vote. The event saw the JSA partner with Know Your Reps, a local organization with a similar mission of informing Fairfield residents about the elections and candidates.
Peter Hinkle, one of the student leaders of the Ludlowe club, spoke about why he thinks the mission of election awareness is so important. "[It has] always seemed to me that everyone either develops their opinions without a rationale, or doesn't have the interest to even form them," he said. "Through our efforts, we hope to build a community whose beliefs reflect what is actually beneficial to themselves and those around them."
The elections are right around the corner, so it is important to be informed and vote if you are eligible.