2021 Local & National Election Night: LIVE
Live coverage of the Fairfield local elections as well as major races across the country
Tonight, polls are closing in Fairfield and around the country as the 2021 Election Day is coming to a close. Local elections in the town of Fairfield, Connecticut, will determine results for representation in the Representative Town Meeting (RTM.) Elections for The Board of Finance, The Board of Education, and more. Follow these results here.
National elections are also taking importance around the country. The gubernatorial elections in Virginia between Terry McAuliffe and Glenn Youngkin is getting lots of national attention from the media. The New Jersey gubernatorial election, where incumbent Governor Murphy is trying to hold onto office, is also being focused on, as well as the New York City mayorial race between Democratic candidate Eric Adams and Republican candidate Curtis Sliwa.
Follow developments live:
6:30 PM (Wednesday)
Phil Murphy (D) has narrowly defeated the Republican candidate for governor in New Jersey, to keep himself in office (Murphy 50.02%; Ciattarelli 49.23%) 
7:30 AM: National Elections
Glenn Youngkin (R) won the gubernatorial race for Virginia with 50.7% of the vote
The New Jersey election is "Too Close To Call" as listed by NBC
2:00AM : All Elections
Eric Adams wins in New York
Michelle Wu wins in Boston
Jacob Frey (Incumbent) wins in Minneapolis 
New Jersey & Virginia gubernatorial results to come in the morning
Local Results Below and on the link here from the Town of Fairfield Website
Recap of the 2021 Election to come
11:55PM : Local Elections
The following candidates are the winners of the Fairfield local elections

RTM 1: Ruggiero (R), O'Shea (R), Monahan (R), Bateson (R)
RTM 2: Perham (D), McCormack (R), Steele (R), Schwartz (D)
RTM 3: Pistilli (D), Lambert (D), Durrell (R), Galdenzi (D)
RTM 4: Spolyar (D), Karson (D), Kelly (D), Zezima (D)
RTM 5: Wolk (D), Diaz (D), Garskof (D), Siebert (D)
RTM 6: Harvey (D), Berecz (D), Gale (R), Graceffa (D)
RTM 7: Vergara (D), McDermott (D), Wackerman (D), Kuhn (D),
RTM 8: Tallman (R), Iacono (R), Messina (R), Ference (R)
RTM 9: Brown (D), Georgiadis (D), Horton (D), Scinto (R)
RTM 10: Petise (R), Britton (R), Tallman (R), Astarita (R)
The rest of the election results can be found here on the Fairfield CT website
11:00 PM : Boston Mayoral Election
Michelle Wu will be the city of Boston's next mayor (The New York Times)
10:00 PM : All Elections
Eric Adams will be the next mayor of the city of New York
Republican candidate for governor Glenn Youngkin is leading Democratic candidate Terry McAuliffe in the state of Virginia, yet NBC News has called the race "Too close to call"
Michelle Wu (D) continues to lead in the Boston mayoral race
Minneapolis' incumbent Jacob Frey (D) leads in the mayoral race with 43.1%
Jack Ciattarelli (R) leads against Democratic incumbent, Phil Murphy with a miniscule amount of votes (19,986 more)
Local Results are coming in; Current leaders include:

Curley; D (Board of Finance)
Starke; D (Board of Finance)
Jacobsen; D (Board of Education)
Kelly; D (RTM 4)
Britton; R (RTM 10)
Iacono; R (RTM 8)
9:25 PM : New York Elections
Eric Adams (D)is the projected winner of the New York City mayoral race, a total of 74.6% for Adams against 20.2% for Sliwa (R)
9:00 PM : Local Elections
All Fairfield election results can be found here on the Town of Fairfield Website
Kevin Starke and Jennifer Jacobsen have taken notable leads in their respective elections for the Board of Finance and the Board of Education.
9:00 PM: National Elections 
Glenn Youngkin (R) continues leading in Virginia with 63% of votes counted (Gubernatorial)
Phil Murphy (D) leads in New Jersey with 10% of votes counted (Gubernatorial)
Michelle Wu (D) leads in the Boston mayoral election with 16% of votes counted (Mayoral)
New York City mayoral polls closing at 9:00PM (Mayoral)
8:00 PM: National Election Updates 
The Virginia polls for their Governor's race closed at 7:00PM, with Republican candidate Glenn Youngkin is leading 54.2%  to Terry McAuliffe of the Democratic party with 45.1%. (NBC)
Fairfield's election polls (Local) have closed as well as the New Jersey polls and the Boston mayoral election polls.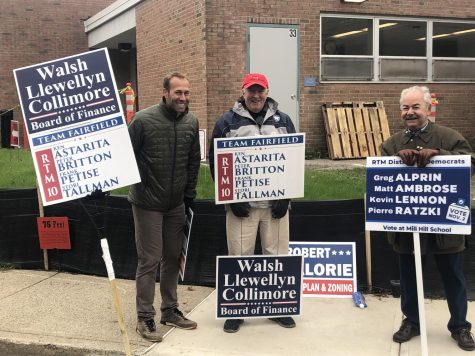 8:50 PM: Local Election Interview
Earlier today, election workers spoke to the importance of voting and local elections.
"People being courteous and kind to one another. There is so much more of that going on than we see in the news and in the media. I really want to underscore that, because that's what we need to underscore. "

"A lot of other countries don't have the right to participate in their own government, and we have that right and the responsibility."

"Everybody's voice matters, and it is about [how] we work together to form a more perfect union, and that takes every single one of us."
The messaging from these workers was to get out and vote. There has been lots of work from the community in Fairfield to reach out and get people to vote.