Ludlowe Voices: Thoughts on College Applications
October 15th, November 1st, and November 15th are some of the major deadlines for early college applications. I interviewed three Ludlowe seniors to hear what their thoughts are on getting the first few applications in. Currently, there are technical difficulties uploading the podcast episode. Below is the podcast transcript.
Emma Cornfeldt
Lauren: I'm here with Emma Cornfeldt. Emma, how did it feel to send in early action or early decision college deadlines?
Emma: I felt a lot of relief, but also it caused a little bit more anxiety, to be honest. I was like, 'Alright, no changes. This is it. I cannot edit my Common App anymore.' But it did feel good that it was something weighted off for me. It was a mix of things. It caused more anxiety because now it's just the waiting game, but now I feel good because it is one thing checked off.
Lauren: For sure. How did you celebrate afterwards?
Emma: I clicked the celebration button multiple times with the confetti, so it covered my whole screen. And then my dad took a picture of me. I just kept it simple because it was one point of celebration, but I still have stuff to do.
Emma Wells:
Lauren: I'm here with another Emma, and I was wondering how does it feel to have your first few college applications in?
Emma: It feels really good. I'm still stressed out though because I have two more left. One of them is coming up on November 15th, so it is really rapidly approaching. I still have to do some supplements, so there is a little bit of stress still. But it feels good to have the majority of them done.
Lauren: You got this!
Emma: Thank you.
Cameran Lynch:
Lauren: I'm here with Cameran, and Cameran recently got into her first university. So Cameran, how did that feel?
Cameran: It felt really good because it was the first college I heard back from, so it was really exciting that it was an acceptance. I just finished applying to all my schools, so it was really exciting to hear back, especially getting accepted into a school. But I applied to a lot of other schools, so I'm still really anxious to hear back from the rest of my schools. But definitely getting my first acceptance was really awesome for me.
Lauren: Yeah, definitely. I mean, I think that is what we are all excited to hear.
Good luck to all seniors on their college application process!
About the Writer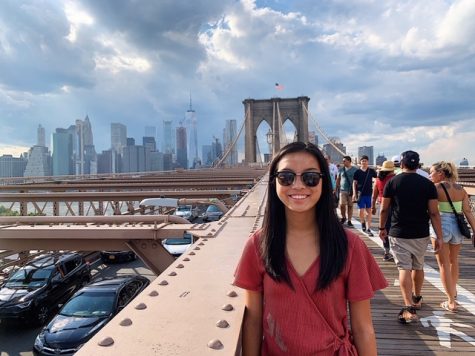 Lauren Ji, Features and Podcast Editor
This is Lauren's second year as the Features Editor for Prospect. She is also the Podcast Editor.