"This Unnecessary Distraction": Boebert's Islamophobic Comments and Her "Apology"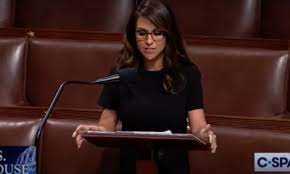 Mia Burke, Social Media Editor
December 1, 2021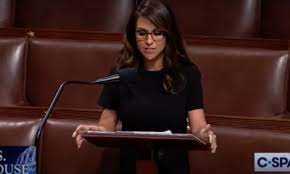 Over Thanksgiving break, Representative Boebert of Colorado was filmed telling a story about Representative Ilhan Omar of Minnesota. In that story, Boebert suggested that Omar was a terrorist and part of the "jihad squad."
Boebert told her story to reporters: "We're going back to my office, and we get in the elevator, and I see a Capitol Police officer running hurriedly to the elevator. I see fret all over his face, and he's reaching. The door is shutting. I can't open it. What's happening?…I look to my left and there she is, Ilhan Omar, and I said, 'Well she doesn't have a backpack, we should be fine'''. Boebert then concluded the story saying "Oh look, the jihad squad decided to show up for work today."
Following Boebert's statements, Omar tweeted on November 25 in response. Omar tweeted, "Fact, this buffoon looks down when she sees me at the Capitol, this whole story is made up. Sad she thinks bigotry gets her clout. Anti-Muslim bigotry isn't funny & shouldn't be normalized. Congress can't be a place where hateful and dangerous Muslims tropes get no condemnation". 
Omar is completely in the right to stand up against Boebert's comments. What Boebert said perpetuates an extremely dangerous narrative about Muslim Americans. Islam does not equate terrorism, and to claim it does puts Muslim Americans in grave danger. We cannot allow this type of speech, especially from leaders in our country. The standard is to refrain from perpetuating harmful stereotypes, in fact it is the bare minimum, and we should hold our leaders to those simple standards.  
Democratic leaders immediately condemned Boebert's statements. House Speaker, Nancy Pelosi, wrote in a statement this past Friday that "Racism and bigotry of any form, including Islamophobia, must always be called out, confronted and condemned". Pelosi also called upon the Republican leadership to address these actions from their party members. 
Omar continued to address Boeberts comments, stating, "Saying I am a suicide bomber is no laughing matter… Anti-Muslim bigotry has no place in Congress". 
This past Friday afternoon, Boebert finally apologized:"I apologize to anyone in the Muslim community I offended with my comment about Rep. Omar… There are plenty of policy differences to focus on without this unnecessary distraction".
To claim that her own comments are an "unnecessary distraction" completely reveals Boebert's unwillingness to understand why what she has done is wrong. The unnecessariness of this situation has everything to do with Boebert's words, not the fact that it is being openly addressed and taking time to do so. What strikes me the most is Boebert's inability to address why what she said is wrong. She apologizes for those who were "offended," but, not the stigma she is perpetuating, or the narrative that she, a leader of the country, thinks is not only patriotic, but also entertaining.
Boebert claims to put "America first," but continuously proves that she cannot prioritize Americans at all. If she did, she would recognize the severity of her claims and work to unlearn her biases.