FLHS Choir Students Take on Radio City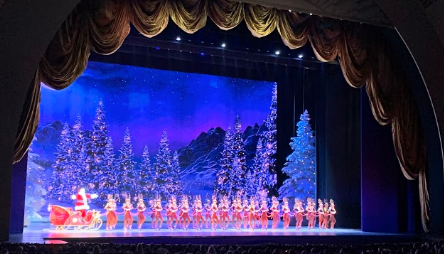 Early on the morning of Friday, December 10th, the Fairfield Ludlowe choir students sleepily filed onto a Coach bus. Clutching mugs filled with coffee, we loaded our garment bags onto the overhead racks and found our seats. As the engines roared to a start, we anticipated our grandest performance yet: singing on the stage of Radio City Music Hall!
Our FLHS choir director, Lauren Pine, had discovered the Sounds of Christmas program- an initiative by the Christmas Spectacular which allows school choirs to open for the Radio City Rockettes. With approval, the BelCanto and Chamber choirs, the upper levels of the FLHS chorale program, had the opportunity to perform a five-minute set on the Radio City stage to open for the annual Christmas Spectacular. It was one of our first times performing a live concert since we came out of quarantine. 
Singing in this large venue, in front of a larger crowd than we are used to, was an amazing opportunity and learning experience for us. 
"It allowed us to start our year off with a bang," says Mrs. Pine. 
Before our call time for the performance, we had the chance to walk through the beautifully decorated New York City and take photos in front of the iconic Rockefeller tree. Then we went through the Radio City Music Hall security, changed into our performance outfits, and warmed up our voices. Before we knew it, we were standing on the enormous Radio City stage. 
Our set consisted of two songs: "S'Vivon" and "Wonderful Christmastime." "S'Vivon" is a popular Hanukkah song, which celebrates the game Dreidel. To prepare the song, the BelCanto and Chamber choirs worked to learn the proper pronunciations of the Hebrew lyrics using the International Phonetic Alphabet. We also spent a portion of class playing Dreidel ourselves. Following this tune, Close Harmony (FLHS mixed acapella group) performed "Wonderful Christmastime," originally written by Paul McCartney and arranged for us by senior Szilvi Cimino. 
After our time on stage, we found our house seats and enjoyed the actual Christmas Spectacular show. Later, we ate a delicious lunch at Bill's Bar and Burger, which gave us some quality time to chat and bond with our choir family. 
In the opinion of these writers, this is a trip that we will never forget.