Class of COVID-19: How Senior Life Has Changed Throughout the Pandemic
Senior year is a magical time of hardwork and celebration. After the months of writing essays, interviewing, waiting, and choosing your school, it's important that seniors pat themselves on the back. 
The past two years for the class of 2022 have been extremely challenging. The pandemic has robbed so many traditions and memories from the students who worked so hard during their four years at Ludlowe
Erica Lapreay, the class president for the class 2022, says how "planning has been frustrating. Prior to the pandemic our fundraising was so strong and since then it has decreased because of so many events being canceled." 
Right now, the main focus is to try to plan events that won't get canceled because of COVID. Lapreay says "thankfully, the PTA has been so helpful and created a group to help us get events planned." Lapreay explained how "we are doing all we can to make prom the most affordable and fun for the seniors."
Meeting with Mrs. Marseglia, the advisor for the class of 2022, gave a greater feel for what this year has in store for seniors. 
Marseglia agreed with Lapreay that the class had "started off super-strong freshman year with fundraising and planning events." The event cancellations, post lockdown, caused the class of '22 to "lose steam since we all kept getting let down…we were so excited to have all these events to raise money for senior year and each time there was a rise in covid and the events were taken away." 
Marseglia touched on how the pandemic has given "a negative undertone to events." Teachers are constantly worried about if something will become a superspreader event, and the students are exhausted over the covid restrictions. 
Marseglia went on to talk about the next few months for seniors. "As of now prom is definitely on and we will be able to bring anyone." 
She explained how hard the student council and administration are working to make the prom as great as possible. "We are going to have it outside in the front, there will be music, great decorations, it will be a very nice prom," she says.
Marseglia spoke with great excitement that "internships are going to happen and most likely going to mimic the same style and rules as last year." 
Graduation is looking like it will be held on the field and hopefully will feel as normal as it can be for the seniors.
The class of 2022 has had a unique past four years, and Marseglia explained how she has seen "a great loss in the comradery. I feel like you all are forced to stay in your bubbles and there isn't much opportunity to unify." 
This is one of the reasons why senior events are so important to the class of 2022. We want to savor the last moments with our classmates since our time has been neglected since the beginning of the pandemic.
Marseglia shared the hardest part about making decisions on planning and cancellations is that "there are so many moving parts. Administration and central office are bombarded with so many things on their agenda…we need to talk to Mr. Hatzis and the PTA and then Hatzis needs to talk to Warde bc we have to be similar…We have to contact all the companies we planned with and canceled…there is a lot of leg work." 
Marseglia and Lapreay both spoke in high regards to how involved the PTA has been. They both seem hopeful in the planning process for new and fun senior events. 
 The class of 2022 is definitely in great hands as they have an outstanding student council and administration bending over backwards to give us the best senior year they can.
About the Contributor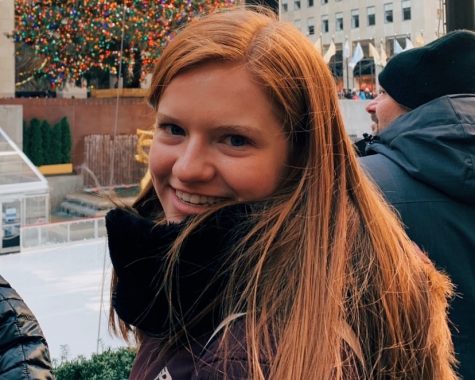 Isabelle Morse, Photography Editor
Isabelle is the Photography Editor for Prospect. This is her third year as a photographer on the Prospect staff.