Holding Athletes Accountable: A Reflection of the Mitchell Miller Situation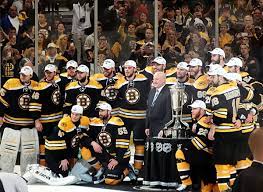 On November 4th, the Boston Bruins announced the signing of defenseman, Mitchell Miller, to an entry-level contract. This action was met with immediate backlash by the public due to an arrest from Miller's past, involving the bullying of a mentally disabled classmate. This backlash led to the release of Miller from his contract just a few days after being signed on November 8th, 2022. The Bruins' decision ended the public relations disaster they had been facing ever since they had decided to sign him.
The incident relating to Miller's arrest occurred in 2016, when Mitchell Miller was a 14 year-old in an Ohio middle school. Miller and another classmate were found delinquent in juvenile court, and were accused and found guilty for a violation of the Ohio Safe School Act along with one count of assault. The victim was Isaiah Meyer-Crothers, a developmentally-challenged black classmate who was repeatedly bullied by Mitchell and another fellow classmate. Yet, Meyer-Crothers mother alleged Miller's patterns of bullying Isaiah, with repeated racist language, began occurring as early as second grade.
Miller was first drafted in the fourth-round by the Arizona Coyotes back in 2020 after playing for the University of North Dakota hockey program. His previous arrest was reported by the Arizona Republic just a day later on October 26th, 2020. This resulted in an release of Miller by both Arizona and North Dakota within the next month.
After the Bruins signed Miller on November 4th, 2022, Isaiah Meyer-Crothers released a statement four days later on November 8th. His statement was posted on the Hockey Diversity Alliance Twitter account, an organization dedicated to ending systemic racism and intolerance within the game of hockey. Isaiah in the statement goes into heartbreaking detail over what he endured while growing up with Miller. "Mitchell used to ask me to sit with him on the bus and then he and his friends would punch me in the head. This happened my whole time at school". Mitchell continues, "When I went to junior high, Mitchell would spit in my face and call me a N word". Isaiah would go on to later say how Mitchell apologized to Isaiah through Instagram direct messaging in October of 2022, weeks before Miller would get signed by the Bruins organization. Isaiah refused to accept Miller's apology and his attempt to build a friendship, as Isaiah said, "Mitchell isn't my friend. It hurts my heart what he did to me."
Last year after his release from the University of North Dakota, Miller played for the Tri-City Storm of the United States Hockey League. After the season, Miller earned both player of the year and defenseman of the year for his performance, which was met with criticism from many shocked by how this player could be celebrated after his actions. The events that occurred with Miller, from the awards to the signing to the Bruins, has been viewed by reporters as a demonstration of what is wrong with hockey culture. In an article, Dr. Teresa Anne Fowler, a sport scholar and assistant professor at Concordia University of Edmonton, spoke on the impacts of this event. "By rewarding Miller with these honors, the USHL is rewarding players who lean into abusive forms of power in the wake of calls to hold hockey culture to account for the ongoing legacies of racism, misogyny, and homophobia."
Mitchell Miller is a representation of accepting punishment for your actions, he was repeatedly abusive towards a developmentally challenged black classmate, resulting in him being released by multiple organizations. Miller has said he's now apart of community outreach programs, helping his community, yet he still needs to be accountable and understand that there are consequences for his actions that deeply harmed his former classmate. This situation is a reminder of the fact that no one is above the law, and athletes cannot be excused for their actions based on their skill, as they must be treated equally amongst society. Mitchell now has an uncertain future ahead of him after his release, yet it is clear that his past will play a role in any future path he takes involving hockey.