Fairfield State Legislator Introduces Bill to Limit Lockdown Drills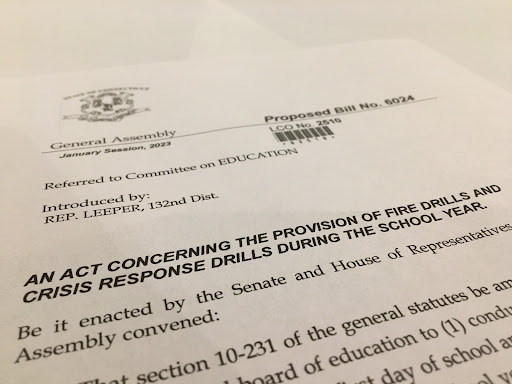 A Fairfield state legislator introduced a bill last month to limit the amount of lockdown drills Connecticut schools must perform, exposing a deeper debate about the effectiveness of these safeguards.
Currently, Connecticut state law requires fire drills to be held once every month during the school year. Additionally, once every three months, a crisis response drill, or lockdown, must be held, with the format of the drill developed in consultation with appropriate local law enforcement agencies. This adds up to a minimum of three lockdown drills per school year. 
At the beginning of 2023's legislative session in Hartford, State Representative Jennifer Leeper introduced HB6024 in the House of Representatives. Her bill would require a fire drill to be held no later than 30 days after the start of the school year, along with one additional fire drill before March 1st of the year. It would also more importantly require at least one, but not more than two, crisis response drills during a school year. 
The bill stipulates that the board of education that administers these drills must provide educators with age-appropriate explanations. These can be shared with students, explaining why crisis response drills are being held. The bill was referred to the General Assembly's Education Committee.
Leeper is one of three people representing parts of Fairfield in the Connecticut House of Representatives. Her district, the 132nd, extends from the beach area to the areas surrounding downtown and Fairfield University.
The full effectiveness of lockdown drills are unknown. However, there has been some research on the topic, such as a report from Everytown for Gun Safety that associated active shooter drills with increased mental health problems in parents, teachers, and children.
As part of her reason for introducing the bill, Leeper cites the Everytown report as an example of the harm on students caused by frequent drills. "Since the introduction of lockdown drills we have been able to study their impact and what we have learned is that there really is no evidence to support their effectiveness in reducing death in the case of an actual active shooter," she states. "However, what we also know is that they are associated with higher rates of anxiety and declining mental health."
"The continuous practice of lockdown drills has made our young people think that school shooting incidents are high-probability events when the facts are that they make up .1% of all deaths involving a firearm," she further notes. 
Leeper says there is no evidence the bill would reduce the safety of schools. "Schools will continue to have plans that are designed with law enforcement, community stakeholders, and all school staff so that all the adults will know what to do in the case of an active shooter. Once a year, schools will practice or simply communicate these plans to students."
Leeper says that the initial response to the bill has been very positive, receiving support from CT Against Gun Violence and Moms Demand Action, two gun control advocacy groups. She also reported encouragement from other groups including teachers, social workers, superintendents, and parents. 
However, the opinions of Ludlowe students on the bill, and the practice of lockdown drills overall, seems more divided. 
"The lockdowns every one of my friends and peers have sat through since we were in lower school have created this mindset that school shootings are inevitable," says Danielle Kanter, a Ludlowe junior, in support of the bill. "To make students feel as though they will be a victim to this causes anxiety and apathy towards gun violence."
Kanter, like Leeper, references the low probability of school shootings. "It is more likely that I will be eaten by a shark than be killed in a school shooting," she states. 
Kanter also commends Leeper's bill as an example of a much-needed change in policy. "Instead of lockdowns which make students the center of gun violence prevention, we should focus on preventing the root causes of this issue," she says, naming strengthening red flag laws, funding mental health resources, and targeting community gun violence as important ways the state could act.
Caitlyn Yang, a sophomore at Ludlowe, offers a different view on lockdown drills. "I honestly think they are unfortunately a necessary precaution because even if an actual emergency is rare, it's better to know exactly what to do if it does happen and where to go if there's an active threat," she says. 
With events like the shooting at Michigan State University and other recent school shootings still fresh in many people's minds, Yang feels like problems for students are caused by these other instances of violence.
She continues, "Unfortunately, with all the recent school shootings, kids are going to be anxious about shooters whether we have lockdowns or not."