A Drastic Time in the Airline Industry

As seen in recent years, the Covid pandemic had a major negative impact on the airline industry, with some even wondering whether the industry would survive. The airlines responded with drastic measures, but were caught off guard when airline travel increased rapidly as the pandemic slowed down. Airports were chaotic in the summer of 2022 With common cancellations and delays, and inefficient customer services.. Measures were taken by the  airlines and government to address these issues, and airlines are now striving to improve their services.     
During the Pandemic, people were worried about leaving their homes and being around lots of people. Just going to a friend or relative's house for a gathering was avoided.  So, naturally, most people didn't  think of this as a good time to be around all the people in an airport, crowded on a plane with other passengers who might spread the disease. Air travel was discouraged, with the government even shutting down several airports throughout the US. Airline passenger traffic in April 2020 was 96% lower than April 2019, and stayed 60% below 2019 levels in 2020.  Not only airlines and airports were affected: Covid also impacted airplane manufacturing, repair, and, since airplanes were not carrying the usual amounts of cargo, the supply chain in general.
In order to survive, airlines  had to lay off some of their staff, including pilots. They also had to sell and retire some of their aircraft. Delta shed 30% of their employees; almost 30,000 people were cut from their staff. Airlines offered early retirement, voluntary departure, and unpaid leave packages to staff in order to reduce payrolls. In all, US airlines shed more than 84,000 employees from February to October of 2020, according to the Bureau of Transportation Statistics (BTS) data. One thing that helped US airlines avoid bankruptcy was the government Payroll Support Program, providing funds to the airlines, but could only be used to pay employees. Carriers have since paid back the government. According to the group, Airlines for America, without the PCP funds, we may not have an airline industry in this country at all today. 
After the pandemic died down, people started traveling again much quicker than the airlines expected.  By the summer of 2022, airline travel nearly reached pre-pandemic numbers. The airlines had assumed that it would take 6 years for travel to rebound, and did not expect an 18 month recovery period. So when travel demand started rebounding quicker than they anticipated, the airlines were caught unprepared. Airlines were experiencing labor shortages including pilots, TSA officers, and other airline employees. There was also a shortage of planes, due to the number of them sold or retired during the height of Covid.  This was not an easy problem for the airlines to solve.  There was no Boeing warehouse full of 787s and 737s waiting to be used. Aircraft manufacturing was very slow because of the supply chain issues which caused serious delays. Airlines tried to hire more pilots, but this was also not an easy task. Becoming a pilot requires a lot of intense training that takes years. Staffing issues across the board were made worse by the many laid off employees who had found other jobs and did not want to return. To make matters worse, employees were still getting sick with Covid, having to be quarantined with not enough backup staff to rely on.   
According to the Department of Transportation, 45,000 flights were canceled between June 1 and Aug 31, 2022.  Over 413,000 flights were delayed by 15 minutes or more in the same period. A lot of major airlines were used to dealing with business travelers, but after the pandemic many more 'leisure' travelers were taking to the skies. Leisure travel had increased to almost pre pandemic levels, while business travel was still down 30%. Because leisure travelers are more inexperienced than the usual business travelers it took longer for them to navigate the airport and get through security, causing even more delays. Adding to the travelers problems in addition to delays and cancellations were the higher fares they were experiencing. This, however, did not seem to have discouraged leisure travelers from their summer plans.   
 In the summer of 2022, complaints about service skyrocketed. 5,079 complaints were filed with the US Department of Transportation in April 2022; a 322 percent increase over 2019 levels. Most of these complaints concerned denied refund requests. 
On Aug. 18, 2022, Pete Buttigieg, the US Department of Transportation (DOT) secretary, sent a letter to the CEOs of the 10 major US airlines, informing them that the DOT was going to launch an online dashboard that would compare the services airlines offer when they are responsible for flight delays and cancellations. This dashboard can be found on the DOT's Aviation Consumer Protection website. https://www.transportation.gov/airconsumer"
 There are two charts on the dashboard.  One shows the airline's commitments to customer service for cancellations, and the other chart is for delays. (The 10 largest airlines are in this case: American, Delta, United, Southwest, Alaska, JetBlue, Spirit, Frontier, Allegiant and Hawaiian.) Each chart details what the airlines have committed to in five areas: rebooking for free within the airline's own network, rebooking for free on another airline, providing meals or cash vouchers for cancellations or delays of more than three hours, providing complimentary hotel accommodations for overnight delays or cancellations, and providing complimentary ground transportation to and from a hotel.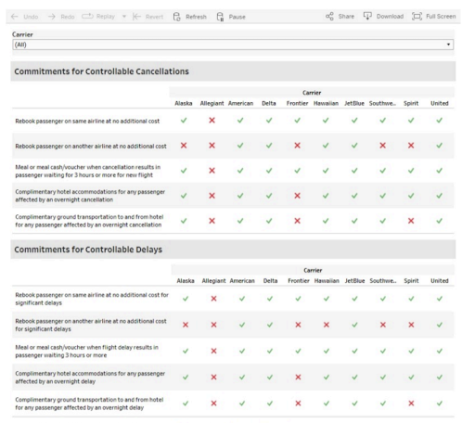 American Airlines, Delta Airlines, United and Jetblue Airways got checkmarks in all five of the categories for both delayed and canceled flights. Alaska Airlines and Southwest Airlines received four out of five checkmarks. Ultra low cost airline Spirit got three check marks and Frontier got two, while Allegiant got none.  Since the dashboard was first published  before Labor Day Weekend of 2022, more airlines have been found in compliance in the various categories. The US DOT stated that it would "hold the airlines accountable if they do not provide the promised services." The DOT is still considering writing regulations that would  require airlines to provide these customer services.
The next time you travel by plane, be sure to check this DOT dashboard to make sure you have the most up-to-date information. To make traveling easier most experts recommend that you take the earliest flight of the day to avoid delays. Also, it is a good idea to travel a day or two in advance when going to a special event such as a wedding just in case things go wrong. Additionally, it might be wise, whenever possible, to avoid checking your luggage and just taking a carry-on. Hopefully airline travel will soon return to being an exciting and enjoyable event for everyone.