Tom Brady's Retirement… Again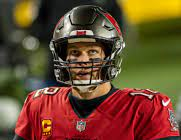 In the early morning of February 1st, Tom Brady made an announcement most sports fans weren't expecting; he was retiring for the second time. Tom took to social media and posted an emotional video talking about his retirement. In the video he said he was done "for good."
This wasn't the first time, though, that he had announced his retirement. Just a year earlier, Tom announced his retirement, shocking the world with the news, receiving emotional messages from past teammates, other NFL players, teams, and famous fans. Longtime teammate Rob Gronkowski put out a message on social media saying, "I witnessed greatness for so many years and got to learn from the best to ever do it". His former team, The New England Patriots, took to social media as well and thanked him saying "It was quite the ride. Thank you and congratulations".
Then, only 40 days after his first announcement, he had a change of heart, and decided he would be going back and playing the upcoming season, which ended up being his last. 
Tom Brady didn't leave the NFL with an outstanding track record. He was drafted in the 2000 draft as the 6th round pick by the New England Patriots. As he was drafted so low, no one had high expectations about his success.  But, over time, he became one of the best football players to ever play the game, playing for the Patriots for 20 seasons and spending his last 3 with the Tampa Bay Buccaneers. Tom had 89,214 passing yards in his career. This season he threw for 4,694, which is the 3rd most in the NFL. He has had 677 touchdowns in his career, 649 of which have been passes. He has 7 super bowl rings, and appeared in the Super Bowl 10 times. He has had 251 wins in his career and started 381 times throughout his career.
Most athletes strive to leave their sport at the top of their game; Even though Tom didn't win a Super Bowl in his last year, he left the game with something better- the title of the GOAT.