Bipartisan Discussion and Civic Engagement: The FLHS Junior State of America Club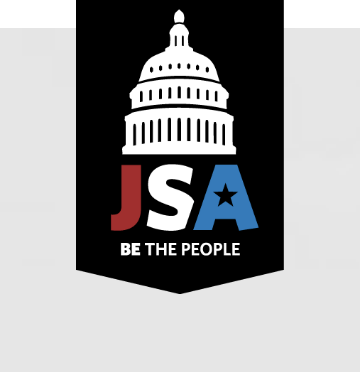 As the election swiftly approaches, and the American political climate has become more polarized, one club at FLHS is working to facilitate bipartisan discussion in our school community.
Juniors Will and Peter Hinkle founded the Junior State of America (JSA) club this year and are excited to begin promoting its mission. They were looking for a political club, and established JSA as a chapter of the national student-led organization, which aims to foster leadership, political discourse, and civic engagement.
Recently, the FLHS Junior State of America Club worked with the school administration to hold a Mock Election. This was an opportunity to engage the entire school community, promote civic responsibility, and inform students–all goals which Will and Peter hope to further through future events. Students voted on October 22 and 23 through the survey feature on Infinite Campus for the vice presidential and presidential ticket. Students could vote for Democratic candidates Joe Biden and Kamala Harris, Republican candidates Donald Trump and Mike Pence, Libertarians Jo Jorgenson and Jeremy Cohen, or Green Party candidates Howie Hawkins and Angela Walker.
FLHS junior Rachel Logue, a member of the Ludlowe Democrats club, shares how the Mock Election was a way for students to make their voices heard: "Participating in the Mock Election, though a small task, was a great way to bring light to our role as young people to advocate for what we believe in."
JSA announced the results of the Mock Election on October 26: Biden and Harris received 440 votes, Trump and Pence received 106 votes, Jorgenson and Cohen received 18 votes, and Hawkins and Walker received 11 votes.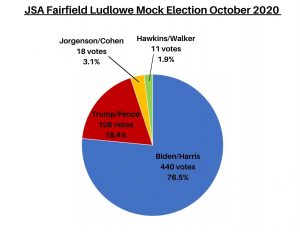 "I see JSA as the facilitator club," explains Peter Hinkle, who hopes that the club can involve the entire school community, including the two existing political clubs, Ludlowe Republicans and Ludlowe Democrats. They plan to have more school-wide activities in the future, such as debates and guest speakers, but want the club to serve the interests of the people involved. "What the club members want is where we want to take it," Peter notes. Peter and Will also plan to create a club constitution to establish a mission and procedures. 
Through discussion, JSA can help students form their own political views and develop respect for opposing viewpoints. Peter and Will stress the importance of becoming more knowledgeable about current events, issues, and political candidates. "I would rather everyone in the world disagreed with me if they knew what they were talking about, rather than forming baseless opinions," Peter told The Prospect. With the advent of "echo chambers" online and the increasing role that social media plays in the political engagement of youth, it is crucial for students to form educated perspectives instead of becoming swayed by the people around them.
Club member Beah Rogers, a junior who joined JSA because of her interest in politics, appreciates that the club provides a way to "connect people with others of different viewpoints." Rogers also mentioned that effective and respectful bipartisan discussion is key to developing political opinions among high schoolers. 
Peter elaborates on the role of the club as a forum for bipartisan debate: "There is an evident divide that exists across the country. We want to shine a light on the polarization and divide and see what is at the root of it. The club is all about bipartisanship and working through differences." Peter and Will are willing to learn from any debate that may occur and clarify their own perspectives.
As Peter and Will told the school community prior to the Mock Election last week, "If there is one thing we can all agree on, it is that we, as members of the FLHS community, the Fairfield community, and the U.S. community, are able to make a difference, large or small, and that each of our choices and actions help to make that difference." The Junior State of America Club encourages students to become more involved in our community and democracy, realizing their Falcon Footprints as active citizens. Contact Peter and Will Hinkle or faculty advisor Mr. Timperanza to join the Junior State of America Club, which meets A week during the activity period.
About the Contributors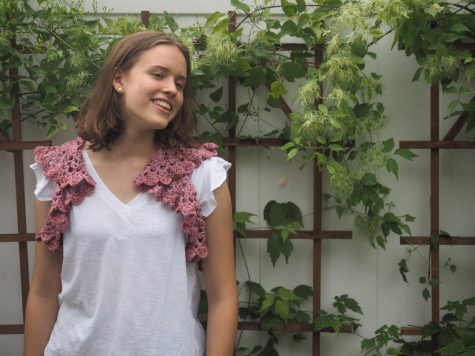 Harper Treschuk, Editor in Chief
Harper is the current Editor in Chief of Prospect. Harper served as the Opinions Editor of the paper during the 2019-2020 school year. This is her fourth...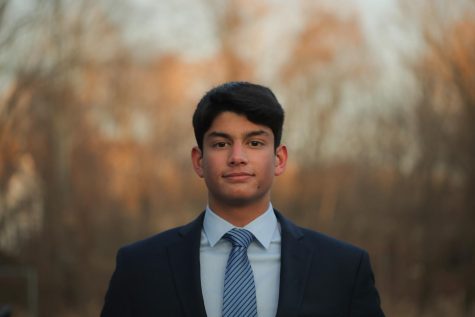 Aniket Martins, Opinions Editor
Aniket is the Opinions Editor for Prospect. This is his fourth year on the Prospect staff. Outside of journalism, Aniket loves soccer and is a huge fan...