In January 2023, US Representative Kevin McCarthy (R-CA), was elected Speaker of the House after a long, tumultuous back and forth of Republican infighting that lasted for four days. This infighting would follow McCarthy throughout his term, eventually accumulating in his ousting last Tuesday, October 3rd. McCarthy held his seat for less than a year before being ousted by House Democrats and a small group of 8 Republicans, leading to a 216-210 vote to oust him. The ousting of McCarthy was led by far-right Republican Matt Gaetz (R-FL), who was a McCarthy antagonist and vocally attacked McCarthy after he helped the passing of a bill to avoid a partial government shutdown heavily aided by Democratic votes. Gaetz told reporters, "Kevin McCarthy is a creature of the swamp. He has risen to power by collecting special interest money and redistributing that money in exchange for favors. We are breaking the fever now."
They have planned to meet on October 10th to discuss possible successors to McCarthy, with a new speaker vote set to take place on Wednesday the 11th.. Republicans have an extremely narrow majority, meaning they need complete party unity on the ballot so that a 'McCarthy situation' doesn't happen again. Potential successors of McCarthy remain unclear, though some potential candidates include Republican leaders such as Steve Scalise (R-LA), Jim Jordan (R-OH), and Tom Emmer (R-IN), who all  have come forward to announce their interest in the position. Speaker of the House is a difficult position for a Republican to hold  in part due to their slim majority in the House and the internal sparring within the Republican party.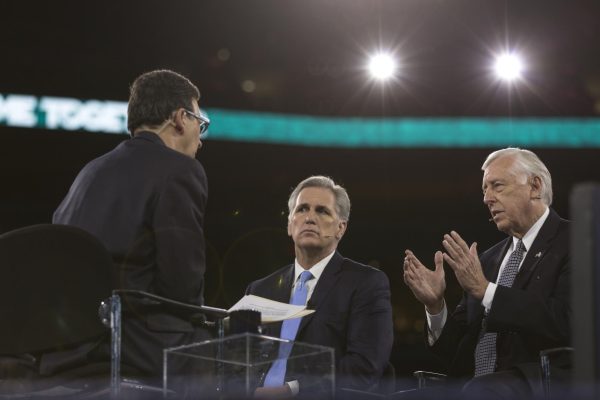 Democrats have also come forward saying McCarthy was untrustworthy, as seen when he broke an agreement he made in May with the Democrats regarding spending with Biden. This sentiment is echoed in Representative Pramila Jayapal's remarks: "Let them wallow in their pigsty of incompetence," Jayapal said, reemphasizing the general sentiment of the democratic party on the McCarthy issue. The House currently looks for a Republican speaker who can unite the House and push away from increasing divides. The House holds its breath amid a choice that must be made which can either make or break the legislative branch in the coming years.