Paul Gosar, The "Martyr" of the GOP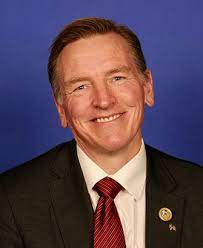 Mia Burke, Social Media Editor
December 1, 2021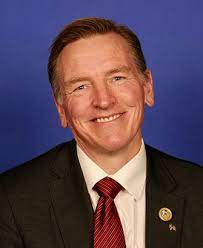 Early in November, Representative Paul Gosar of Arizona tweeted an animated video of himself attacking both President Joe Biden and Representative Alexandra Ocasio Cortez of New York. After speaking with House Minority Leader Kevin McCarthy, Gosar deleted the tweet. Gosar went on to explain that he does not support violence and that the animation was meant to be "a symbolic portrayal of a fight over immigration policy." He also went on to claim that the animation was partly an effort to broaden voter outreach. 
In response to his actions, Representative Jackie Speier introduced a resolution to censure Gosar. By censuring him, Gosar would lose his assignments on the House Oversight cCommittee, as well as his membership on the Natural Resources Committee and Oversight and Investigation Committee. 
The House voted on Wednesday, November 17, to censure Gosar with a vote of 223 to 207. This is not the first time that Republican members have been called out for threatening Democratic representatives. An example is this past February when the House stripped committee assignments  from congresswoman Majorie Taylor Greene after her social media posts were flagged for supporting violence against Representative Ocasio-Cortez, Representative Ilhan Omar, and Representative Rashida Tlaib. 
Following the video being put up, and taken down, Representative Ocasio-Cortez noted that Gosar never reached out to apologize for the video. She went on to tweet about the situation: "So while I was en route to Glasgow, a creepy member I work with who fundraises for Neo-Nazi groups shared a fantasy video of him killing me". 
Following the vote, Gosar decided to repost the video as well as claim to be a martyr. Gosar then compared being censured for the video to what happened to the Charlie Hebdo magazine in France. Gosar stated that "All right-thinking people condemned that then" in reference to the magazine, and "they should condemn the Democrats now for their violation of free speech" in reference to the vote to censure him.
Although the vote was primarily driven by Democratic votes, it is important to note that this was not a completely partisan effort. Republican representatives, Adam Kinzinger and Liz Cheney, voted to censure Gosar, making their voices heard across party lines. Most recently, GOP Governor of Arkansas, Asa Hutchinson, stated that House Minority Leader McCarthy should be "publicly condemning" representatives like Gosar for their inappropriate actions.